Hivestack recently delivered the world's first anamorphic programmatic DOOH campaign. The campaign was activated for RE/MAX in South Africa, the leading global real estate franchisor via their agency Mark1 targeting audiences at the iconic Victoria & Alfred (V&A) Waterfront in Cape Town via V&A appointed media owner, Innovocean as shown below…
Will Brownsdon, Managing Director EMEA at Hivestack told us "We are very proud to have been selected as the partner of choice for the innovative anamorphic 3D video campaign for RE/MAX in South Africa which marks a seminal moment in time for our business and the DOOH channel at large being both a global and industry first for programmatic DOOH. Mark1 really understands the power of the channel and were brilliant to work with and as always, Innovocean was the perfect partner, allowing us to collaborate on an even greater level to drive efficiency and effectiveness for this unmissable activation."
RE/MAX with approx 140k agents in more than 110 countries worldwide, activated its 3D anamorphic campaign programmatically via Private Marketplace (PMP) deal. Leveraging the benefits of the Hivestack Demand Side Platform (DSP), its data-driven marketing agency Mark1, was able to take full control within one consolidated dashboard where it could upload creative, set and control campaign parameters, schedule the campaign to go live in specific locations when target audiences were in proximity of the screens as well as monitor and optimise delivery, streamlining the entire DOOH buying process end-to-end.
The campaign was an attention-grabbing display which incorporated larger-than-life 3D visuals that appeared to be emerging from Innovocean billboard screens, one of South Africa's biggest outdoor advertising providers integrated in the Hivestack Supply Side Platform (SSP). To ensure a captive audience, Innovocean used several methods for audience verification to identify the number of people passing by each screen. This data was then passed back into the Hivestack SSP to augment existing impression multiplier data within the Hivestack platform so that Mark1 could see exactly how many impressions the campaign achieved on each screen. By using programmatic technology, Mark1 achieved a level of audience measurement sophistication that has never been possible before for the DOOH channel in South Africa.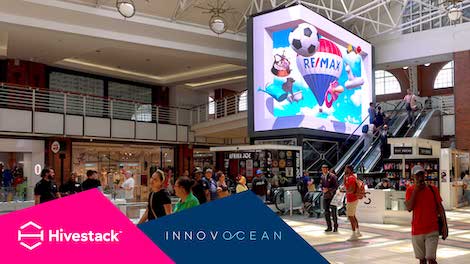 Remi du Preez at Innovocean said "Innovocean strives to push the boundaries of DOOH, finding innovative ways to activate complex and exciting campaigns. Our collaboration with Mark1, Hivestack and AdMakers International for client RE/MAX of Southern Africa has been a fantastic experience, with each party bringing their expertise and experience to the table. We hope this campaign inspires others to explore out-the-box executions that merge creativity and technology."
Multi-dimensional creative formats like anamorphic 3D video have finally come of age and in 2022 marketers from all over the world are seen to be adopting this medium to reach their audiences outside of the home, furthering the impact and scale of their marketing plans. A truly visual and unmissable creative delivery that creates unforgettable and lasting impressions on viewers, DOOH anamorphic has immense potential and scope. Programmatic DOOH offers the precision, accuracy and scale that has the ability to directly connect a brand with its audience and by marrying the two, the possibilities for greater targeting and engagement are limitless.
Shannon Delaporte, Managing Director at Mark1 was quoted as saying "Having access to both media and creative specialists allowed us to take advantage of innovative media opportunities in a creative way. This has been an exciting project for all of us; most certainly the start of many to come."