Adrian J Cotterill, Editor-in-Chief
DPAA, the global trade marketing association, driving the growth and digitization of out-of-home media today and its growing role in the omnichannel mix, has announced speakers and topics for its end of year event, 'The Future of DOOH in 50 Minutes'.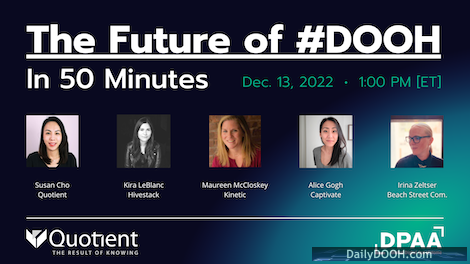 The Zoom webinar is being held in conjunction with Quotient and takes place on December 13 at 13:00 Eastern Time.
Sessions and speakers at the event include:
The Future of Programmatic DOOH will address trends, retail media, outlook for 2023.
Randi Pesso, Group Director, Kinetic
Chris Grosso, CEO, Intersection
Ben Abbatiello, Global SVP of Publisher Solutions, Hivestack
Up Close and Personal with Digital Out of Home Excellence (DOOH-E) award winners,
Debbie Benadiba, President, Novus
Nikunj Mahajan, Account Director, Publicis
Jason Kornfeld, Sr. VP, Kevani
Leading Women in DOOH. Hear from these leaders on the female future of the medium
Kira LeBlanc, Global CMO, Hivestack
Irina Zeltser, Founder, Beach Street Communications
Maureen McCloskey, Managing Director, Kinetic
Alice Gogh, Sr. VP, Captivate
Susan Cho, Head of Agency Sales & Partnerships, Quotient
Barry Frey, President & CEO of DPAA told us "As we close out this busy year, The Future of DOOH in 50 Minutes, is the perfect event for smart and busy teams to participate in to prepare for 2023".
Registration can be found here.