Adrian J Cotterill, Editor-in-Chief
OUTFRONT Media (NYSE:OUT) has announced that direct-to-consumer hosiery brand Sheertex is this month launching a new OOH campaign for its impossibly strong sheer tights.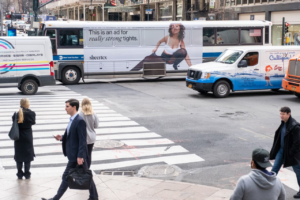 The new campaign, anchored by the phrase 'Really Strong Tights', is being conducted as a follow-up to Sheertex's successful 2022 'Alarmingly Strong Tights' campaign with OUTFRONT.
Rolling out now, the new campaign will initially utilize 100 wrapped ultra-super king buses in New York (Manhattan and Brooklyn), along with billboards in Chicago and posters in Toronto. With plans to expand onto buses in Washington, DC, later this year.
Sheertex's inaugural out of home campaign utilized the power of the transit media, with memorable visuals on branded subway trains, station dominations, liveboards, and ultra-super-kings on NYC buses. This media domination, combined with smart creative, brought the brand to life and was hugely successful.
Sheertex Founder and CEO Katherine Homuth said "While online channels were effective for fast, broad awareness, we found that out-of-home was helpful in building brand credibility."
Prior to this campaign, and since being founded in 2017, Sheertex had primarily used social and other channels to market its products, which are produced from the same polymers used to manufacture bulletproof vests and climbing gear rather than nylon used in most hosiery.
Christina Radigan, SVP of Strategic Research, Insights, and Analytics at OUTFRONT Media told us "The new Sheertex campaign is yet another example of the power of OOH for DTC brands working with out-of-home, particularly our impactful transit inventory. From Sheertex and FreshDirect to Warby Parker, Casper, and Dollar Shave Club, DTC and OOH have proven a powerful match that not only builds brand awareness, but leads to tangible, measurable results that have a legitimate impact on business."
OOH is often seen as the perfect media partner for the DTC category, as it over indexes in driving desired consumer digital activation, like website visitation, social sharing, and purchase. According to research from MFour and Comscore, 41% of consumers who see OOH ads will search for them online, and 29% will visit their websites – over-indexing other media categories by 5.3x and 4.9x, respectively, on a dollar-for-dollar basis.