Adrian J Cotterill, Editor-in-Chief
Today Wednesday March 16 sees another WE.DOOH (Women's Empowerment in Digital Out of Home) webinar event, entitled 'Advancing at Work Through Allies and Advocates'.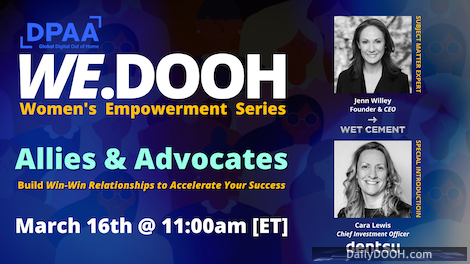 The webinar will be chaired by Jenn Willey, Founder of Wet Cement, a business skills, leadership and DEI consultancy who will be joined by special guest speaker Cara Lewis, Chief Investment Officer at Dentsu.
The event which will be held online at 11am ET on March 16 will help attendees map out a plan to build their own personal board of directors to help them navigate their careers. Research shows that men are more likely to build sponsor and mentor relationships to help them navigate tricky situations at work, position themselves for promotions, etc. All too often women are told to find a mentor or sponsor but aren't sure where to begin. The result is women are not promoted at the same rate as male counterparts. This workshop will provide action steps for women in this position. Male allies are encouraged to attend to understand the role they can play.
Barry Frey, President & CEO of DPAA told us "DPAA's WE.DOOH (Women's Empowerment in Digital Out of Home) is a very robust program with interactive workshops and networking, truly empowering our industry and the leaders and teams in it who bring us diversity, ideation, excellence and growth".
For an invitation please contact info@dpaaglobal.com.
WE.DOOH, launched in 2018, is a network that unites women working across the digital out-of-home ecosystem. Partnering with Advance Women at Work (powered by Wet Cement), WE.DOOH runs webinars, training sessions and releases videos with helpful tips for women in the workplace.
Debbie Drutz, President of NOVUS Media and member of DPAA's Board of Directors is the chair of WE.DOOH. Advisory Board members include Samantha Brown, VP Business Development, Mesmerize; Kelley Drake, Director of Marketing, Xaxis; Luba Giglia, VP Marketing, Adomni; Nikki Hawke, CMO, Hivestack; Leslie Lee, VP Marketing, Vistar; Nicolette Leonardis, Co-founder, Vertical Impression; Traci Lorio, Location Data Manager, HERE Technologies; Maureen McCloskey, Managing Director, Kinetic Worldwide; Shannon Shae Montoya, Sr. Director, Verizon Media; Rosie O'Meara, Chief Revenue Officer, GroundTruth; Joni Schmeichel, OOH Marketing Strategic Marketing Mgr., Daktronics; Amanda Sheplee, Client & Agency Partnership + Programmatic Lead, Outfront; Marci Weisler, Chief Commercial Officer, Vengo Labs; Irina Zeltser, President, Talon Outdoor.