Adrian J Cotterill, Editor-in-Chief
Panasonic claim that Spanish Media communications company MEDIAPRO has built the world's largest video wall using nine x 103" Panasonic plasmas in a 3×3 matrix to showcase its HD work.
That claim seems a bit of a stretch to us; maybe for a Digital Signage type application the video wall could be termed 'large' BUT we can think of plenty of rental staging video walls that are bigger.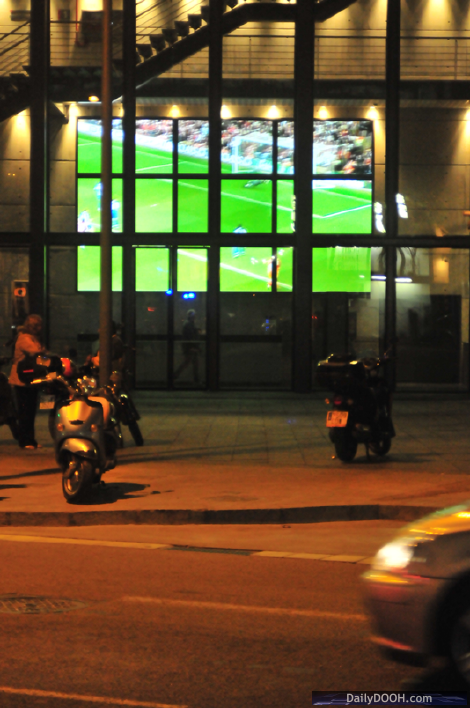 This installation is placed prominently in the reception area of MEDIAPRO's new state of the art production facility in Barcelona.
We would argue that the video wall in the telecommunications pavilion at EXPO '92 in Seville was much larger – back then it was done with CRT monitors from Electrosonic. That video wall consisted of 850 monitors arranged in a 35 x 24 array and weighed over 35 tonnes and measuring 16m (53ft) wide by 10m (33ft) high. It is now on permanent display at Futuroscope in Poitiers, France.
You could say that this Panasonic video wall's claim to fame is that it is using the largest individual screens, but that's hardly the same as saying it is the World's Largest Video Wall. Shame.
About Panasonic

Panasonic Corporation is a worldwide leader in the development and manufacture of electronic products for a wide range of consumer, business, and industrial needs. Based in Osaka, Japan, the company recorded consolidated net sales of 7.77 trillion yen (US$78.4 billion) for the year ended March 31, 2009. The company's shares are listed on the Tokyo, Osaka, Nagoya and New York (NYSE: PC) stock exchanges