Gail Chiasson, North American Editor
We asked Jeff Collard, president of Omnivex, based in Concord, Ont., to tell us a bit about his worldwide partners and how companies cooperate behind the scenes, adding value where it is applicable to software offerings.
"We do quite a bit of work around the world through our reseller network, with installations in 48 countries," says Collard.
"One of our partners in the UK is displayLED. It uses our software to operate its scoreboards (input and output). We also provide the software for concession stands, club rooms, restaurants and concourse areas at some of these stadiums.
"displayLED has a very strong technical person in Matt Hassock, whom I worked with when he was at Reuters. Matt works with our local resellers to assemble tailored solutions using standard Omnivex products. He configures various Omnivex applications to tailor a custom solution for each customer. Last month, he did an installation at Sydney Olympic Park in Australia for the pool and outdoor track and field facility."
"The job was for three large LED screens at the Sydney Olympic park," says Hassock. "One for the athletic stadium and two in the pool complex for swimming and diving. These LED screens replaced the electromechanical and incandescent screens that had been at the park since the Olympics in 2000. The system interfaces to the existing Omega timing system which has all the sensors at the start and finish.
"I built a serial to XML parser for the Omega data to interface with the Omnivex software. Omnivex Display was absolutely the right tool for the job. It would have been impossible to create a system that did everything needed in two weeks without it. It's now running the scoring systems for track and field, swimming, diving and water polo.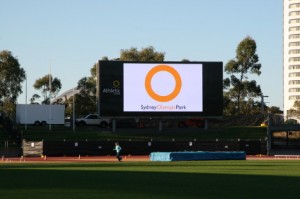 "The screens were supplied by displayLED and installed and managed by Screencorp, the biggest LED screen rental/supplier in Australia. The support from Omnivex's Australian reseller – Gary Else from Communitech – was invaluable. He supplied the software and all of the additional interface kit that was required to hang everything together."
In addition to Australia's Sydney Olympic Park, displayLED\Omnivex installations around the world include: Infinity Park Stadium in Glendale, Colorado; Lokomotiv Moscow Railway Football Club in Moscow; Malmo Arena in Malmo, Sweden; Sør Arena in Kristiansand, Norway; Sogndal Soccer stadium in Sogndal, Norway; and, in the UK, Hampden Park (Glasgow); Norwich City Football Club (Carrow Road Stadium); Stoke City Football Club (Britannia Stadium); Hull City Football Club (Kingston Communications Stadium); and Huddersfield FC & Huddersfield Giants (Kirklees Galpharm Stadium).
"This is just one partner that we work with in Europe," says Collard. "There are others in different vertical markets but displayLED is interesting, with its installations in multiple countries. Driving a big LED board is nothing special but how displayLED does it is.
"displayLED is using our standard off-the-shelf software to build scoring systems. As far as the software is concerned, both the scorekeepers input system (a touch screen in kiosk mode) and the big scoreboard are digital signs. As Omnivex software is built on a data centric platform, displayLED can quickly configure a solution to meet specific customer's needs. It has focused its efforts in the areas where it brings the most value, and partnered with technology leaders to benefit customers. In fact, its extensive knowledge of our product allows it to do things that no one else can."
A (lengthy) view of what displayLED/Omnivex has done at Sør Arena, and other installations involving Omnivex in Norway, can be seen in the video below from Hatteland Vision
A digital signage integrator, Hatteland Vision is Omnivex's local reseller based in Oslo, who provided Omnivex's software to displayLED in Scandiavia.
Hatteland Vision won Digi Award 2008, considered the industry's Grammy in Digital Signage – the first company outside the U.S. who has received the award. Hatteland Vision was also named best global partner in 2008 and 2009 by Omnivex.