THIS EVENT HAS BEEN CANCELLED BY THE ORGANISER
During #OOHNYC here's a chance to discover the Future of Digital Out-of-Home Advertising on Thursday October 12 from 10 am – 2 PM to explore the exciting possibilities and advancements in #DOOH Advertising!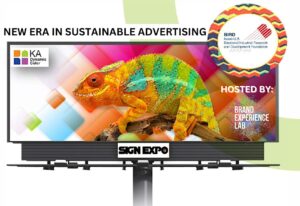 This event will be held at the Brand Experience Lab in Jersey City, a great hub for innovation and creativity in the retail industry with the core ability to deliver at scale.
It will be an exciting event where SignExpo and KA Dynamic Color will delve into the future of digital out-of-home advertising, so get ready to be inspired and learn how to take your advertising game to the next level.
Here's what to expect:-
Unveiling of SignExpo and KA Dynamic Color's Revolutionary Displays: Be the first to witness groundbreaking digital signage technologies that are set to redefine the industry. These state-of-the-art displays feature Disruptive Green reflective digital display technology. By creating ultra-low power outdoor signage with exceptional color quality KA Dynamic Color and Signexpo aim to transform the traditional advertising market and drive dramatic growth by captivating your audience and elevating your brand's visibility.
KA Dynamic Color – The Next Era of Vibrancy: Discover the power of vivid visuals with KA Dynamic Color. Experience how their innovative color technology can bring your advertisements to life like never before, with 90% less energy consumption. This allows you to make a lasting impact on viewers and not on the environment!
Immersive Demos: Get hands-on with the latest digital signage and color technology. Our experts will guide you through live demonstrations to showcase the versatility, clarity, and impact of these solutions in various real-world scenarios.
Networking Opportunities: Connect with fellow industry professionals, marketers, and experts in the field. Share insights, discuss trends, and forge valuable connections for future collaborations.
Expert Insights: Gain valuable insights from industry experts about the future of retail and adversiting. Learn how to harness the full potential of digital out-of-home advertising to drive brand success.
Q&A Sessions: Have burning questions? We've got you covered. Engage in interactive Q&A sessions with our experts to dive deeper into the nuances of digital advertising.
Refreshments and Snacks: Enjoy complimentary refreshments and snacks to keep you energized as you explore the future of advertising.
This event is ideal for marketing professionals, advertisers, business owners, and anyone interested in staying at the forefront of advertising technology. Whether you're a seasoned expert or new to the field, you'll find valuable insights and inspiration at our event.
Date and time
Thursday, October 12 · 10am – 2pm EDT
Brand Experience Lab
234 16th Street 4th Floor Jersey City, NJ 07310 United States
Attendance is free, but space is limited, so be sure to reserve your spot today to secure your place at this exceptional event by registering here.
Out of Home New York (formerly New York Digital Signage Week) takes place from October 9 to 13 and is the usual heady mix of FREE and PAID for events – conferences, showcases, cocktails, open house, tours and other ad-hoc activities.
DSF Cocktails and Controversy, the DPAA VIP Newsmaker Dinner, the DPAA Global Summit, the Sony Professional Display Solutions Roadshow, SOLOMON Cocktails, OAAA Cocktails, a Walk and Talk' Coffee event at David Geffen Hall, a Daktronics NYC Partner Appreciation Reception, Proto Holgram Open House, XUSC Jazz & Cocktails, Planar Virtual Production Studio Open House & Demo, Planar Emerging Trends in Education Luncheon, a Planar Showroom Open House & Happy Hour, and a Sip & See LiquidView's Digital Windows event are just some of the events that are scheduled to take place that week.