Adrian J Cotterill, Editor-in-Chief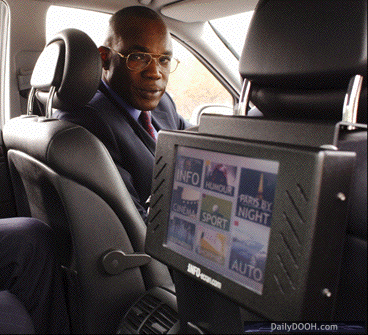 Taxis Bleus, I am told, is the largest European Radio Taxi Company with over 3,000 vehicles.
Info-ecran in Paris can lay claim to being the first digital taxi-cab media advertising business in continental Europe and was formed about the same time as the UK's Cabvision (still going strong) and Cabtivate (no longer around).
There is also Newscab of course operating in Denmark and Faster Media's GO-TV operating in the Netherlands.
Info-ecran also have a franchise in Marseille.
There is a touchscreen in the back of the taxi which gives every passenger the choice of the program to be seen (news, cinema, automotive, travel, Paris by night etc).
Digital View Media(now EnQii) were instrumental in setting this up several years ago. Content updates are carried out weekly via wireless (Wi-Fi) – I assume there is no DAB like in London (Cabvision use the DAB digital radio frequency for 24 hour updates).
The average taxi journey is 20 minutes. 90% of passengers touch the screen. Each video segment lasts a maximum of 1 minute and 30 seconds. There are never two advertisements in a row.
Guillaume Zarka, owner of Info-ecran says that the "goal is to provide a service to the passenger more than feeding them with advertising".
The content I thought was very good, the seat back clip-on screens looks weird but works quite well (and is very robust). Nice network.