Gail Chiasson, North American Editor
After development, extensive testing and various product revamps, Transactional Technology Solutions Inc., Brampton, Ont., has launched InTransit Network, a proprietary payment processing and passenger entertainment system for taxi and limousine fleets.
The InTransit Network technology provides in-car payment processing and media solutions and meets a mandatory regulatory requirement requiring merchants, including taxi cabs and limousines, to install EMV certified electronic payment processing capabilities by 2010.
The final product looks considerably different and is far enhanced from the cumbersome unit as originally conceived.
The new unit is a small,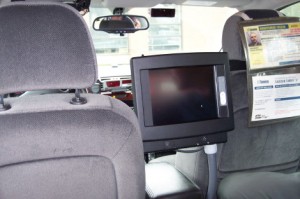 10.4" high-resolution touch-screen, tamper and shatter proof, and incorporating secure payment options, GPS, and a zoned screen format with approximately 70% of the screen, displaying entertainment content and information. Fitting in-between the driver and passenger seat, it allows for increased passenger comfort, while drivers like it because its placement makes it difficult for a passenger in the back seat to reach across and accost him/her.
An Ingenico pinpad will allow TTS to easily change out pinpads as technology and/or banking regulations evolve. The attached pinpad also makes it easier for the taxi or limo driver to assist the passenger with their payment transaction which can be by cash, credit, debit, corporate and consumer cards. The company partnered with Tender Retail and Moneris to develop a fully certified credit/debit payment system. Payment software is written and licensed from Tender Retail, while all transactions are processed by Moneris, Canada's largest processor of debit, credit and gift cards.
"TTS has developed and owns the proprietary software that integrates the payment and media solutions," says Tom Davies, president. "Software design has been focused on three areas: integration of application software and operating system; integration of media content; and payment method."
The final software application is CabTivate.
It allows the mobile units to be accessed only from TTS offices or by authorized support personnel. This application will allow technicians to remotely diagnose and repair most issues that may occur on an individual ITN unit regardless of its location. This proprietary application has been extensively and successfully tested and is trademarked KiControl.
"The proprietary software allows for customer-centric and user-friendly interaction with the system," says Davies. "Content updating on the ruggedly mounted touch screen can now be done quickly and transparently, giving the viewer revised/updated content on-the-fly as well as actual brand new content incrementally updated throughout the day."
ITN has the ability to simultaneously broadcast news, sports, entertainment and weather, delivering informative and entertaining content coupled with highly-targeted, relevant and customer-valued, marketing communications. Passengers have the ability to select and view a variety of programming using the high-resolution touch-screens. The unit currently offers consumers six distinct channels including: Fashion; Lifestyle; Entertainment; Music; Nightlife; News. The content has been provided by Rogers Media, Disney, Universal, amongst others, and the news runs on a real-time RSS feed. Included on the screen are current weather conditions and a three-day forecast.
TTS is also working to develop a restaurant/attractions channel that will showcase local amenities. Included will be a GPS-based map that will appear on-screen at the conclusion of a passenger's trip and will highlight local restaurants and attractions located within a one kilometre radius of his dropoff point. (Future applications of this feature will include integration of the stored coordinates in cab company's back-end systems for dispatch.)
TTS is also committed to providing a forum for disseminating Social Responsibility messaging to the community. Working with groups such as the Ontario Community Council on Impaired Driving, the Student Life Education Company, and the Ontario Association of Chiefs of Police, the InTransit Network unit encourages responsible usage and promotes anti-drinking and driving messaging. The unit also has the ability to provide immediate messaging, including community and amber alerts. Future enhancements will include in-car cameras with the ability to store photos for investigative purposes.
TTS is also committed to providing support to local tourism stakeholders, and offers each community the opportunity to promote special events and points of interest on-screen.
ITN will carry advertising after it reaches a minimum number of units deployed (200), which is expected to happen by year end.
"Until then, advertising sales are not viable," says Ann Waltos, vice-president sales and marketing. "However, we have introduced the product to some advertisers who have been very receptive. During our test pilot in Toronto, we ran ads for Via Rail and OCCID, as well as movie trailers for Disney."
Beta testing of the ITN unit indicated virtually no resistance by passengers to the wireless processing fee, since consumers are accustomed to paying fees of $1.00 to $1.50 on second- and third-party debit card transactions. Beta testing also showed a high level of acceptance by consumers. Over 90% of those asked rated the unit as highly entertaining and of exceptional value, and when asked if they would choose a taxi based on the availability of an ITN unit, more than 72% said "Yes".
The majority of drivers have found that having the unit has proven beneficial by entertaining the passengers, limiting the requirement for small talk. They also have found the payment interface to be user-friendly and the payment processing fast and reliable.
Full fledge deployment is expected to begin in Mississauga, Ont.. TTS has already secured several contracts with unnamed companies.
TTS is a private company owned by an investment group. The company also operates the Blood Alcohol Educator, a Web site designed to teach youth about responsible usage.