Adrian J Cotterill, Editor-in-Chief
We were informed on Wednesday 7th October 2009 that this event was cancelled.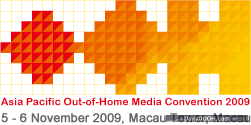 You know how picky we are with events and conferences, only recommending the best and telling you how we see it if it's rubbish BUT this looks like a great event to attend if you are interested in the APAC region.
The event was to be held 5th – 6th November, Macau Tower in Macau.
See http://www.oohmediaconvention.com/