Adrian J Cotterill, Editor-in-Chief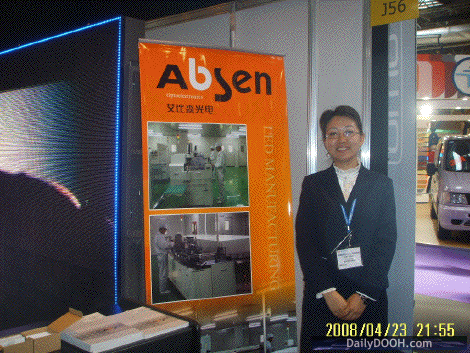 One of the LED suppliers we spent time with at last week's Sign And Digital UK show was Absen, a Chinese manufacturer.
Many companies we have dealt with could learn a thing or two about business card follow-up as we received this charming email this morning…
Dear Ms. Adrian J Cotterill,

Nice to having met you in Sign & Digital UK of Birmingham last week, and thank you for visiting us.

I am sending you the photo we took in exhibition, and for your file to remember me. 🙂

Do you have the detailed project information in hand now? So that I can offer you the exact good price for your reference.

Aug.8th, 2008 is the open date of Olympic Game, WELCOME TO CHINA & WELCOME TO BEIJING!

Best Regards
Cathy

Shenzhen Absen Industry Co., Ltd.
International Trading Dept.
Our Cantonese / Mandarin is not up to scratch so won't comment on the English but seriously a great follow through from a marketing perspective.