Adrian J Cotterill, Editor-in-Chief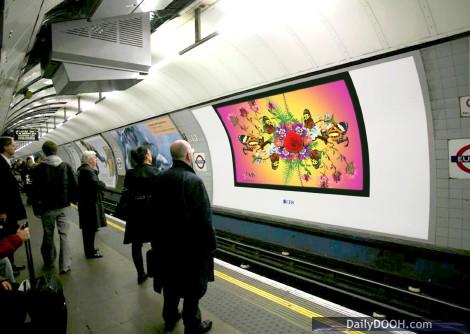 We are not yet convinced by the quality of XTP (Cross-track Projection) though have yet to see much content running and indeed, hard to find XTP systems that are operational daily rather than just installed and sitting there (in the UK at least).
Anyway, CBS Outdoor announced today an exclusive XTP deal with branding agency Heavenly which come ahead of the commercial roll-out of XTP this summer in London.
Heavenly's broadcast clients include Current TV, BSkyB and ESPN so we should see some good commercial activity on the network at least.
Two new XTP screens were switched on at Bond Street this week and are currently testing creative treatments (we haven't seem them yet).
Richard Sunderland, Heavenly commented, "It's great to be in on the launch of this medium first. I'm delighted that our clients will be one step ahead of the market with this pioneering technology and we look forward to wowing Londoners with some innovative marketing ideas".
As well as the deal with Heavenly, CBS Outdoor is in negotiations with a number of blue chip brands interested in becoming launch partners and we expect the first exclusive deals to be announced in the coming weeks.