Adrian J Cotterill, Editor-in-Chief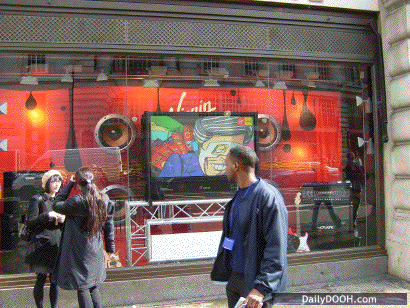 Trying to prove that anything placed in a shop window display (digital or otherwise) has a sales or branding affect is never easy.
In a recent test to establish the effectiveness of the Virgin Megastore Digital Screen Network, Virgin have been monitoring the sales performance of Avril Lavigne's latest album 'The Best Damn Thing' (my middle daughter aged 12 loves it but it's not my cup of tea).
Basically, a two week campaign in both London and Glasgow, saw sales comparisons made between those stores with Screens in the window and those stores without.
In London, Piccadilly Circus (has a screen) generated a 43% increase in sales against Oxford Street (without a screen).
In Glasgow, Buchanan Street (with a screen) out performed Argyll Street (without a screen) by 37%.
Virgin and DSN claim that "for marketers in the music, games and film areas this is final proof that Virgin screen activity can seriously enhance sales performance" – there are lots of reasons why I wouldn't go as far as saying that as emphatically as they have done but it's a great story for the industry nonetheless.
See http://www.digitalscreennetworks.com/
Note the ITrans display from Screen Technology Ltd which is clearly visible even from a distance in bright sunlight.
See http://www.screentechnology.com/
In a separate announcement I understand that Peter Barrett's UK based Digital Media Sales (DMS) house has won the business to carry out third party media sales on the Virgin Megastore Window network – another tick in the box for common sense as a bunch of techies and installers (nice, intelligent guys though) running a network hand over media sales to a specialist agency.
DMS recently won the media sales contract with the Electronic Health Media (EHM) network, a new UK based Scala powered network, with 105 surgeries and some major hospital groupings. EHM claim that a further 20 GP practices are being installed across England every month.
DMS are well known to the outdoor, digital and poster specialist media buying and planning community – having been doing media sales for Cabvision for several years now.
DMS suddenly jump right up the 'independent' media sales house league table with 3 networks!!
See http://digitalmediasales.co.uk/