Adrian J Cotterill, Editor-in-Chief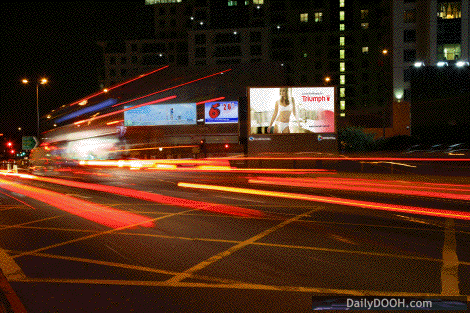 Here's the official press release from Clear Channel on their new Digital LED Roadside Network. It's interesting that the 7 – 10 second content segment is again used – in this instance a 60 second loop made up of 8 x 7.5 second segments.
The network looks like it is to grow to 10 screens in total. Congrats to Barco on the order and it looks like it is goodbye to those horrible Magink screens that Clear Channel (for some reason) used to use!!
CLEAR CHANNEL OUTDOOR LAUNCHES DIGITAL LED ROADSIDE NETWORK

LONDON – 7 May 2008. Clear Channel Outdoor this week launches the first five LED screens of its digital roadside network in London with five more to be installed by the end of June and 10 more proposed to be in place by the end of 2008. The first five screens are located on key routes in and out of the affluent West, the West End and the City in Chiswick, Billingsgate, the A40 Western Avenue, Fulham Palace Road and Vauxhall Cross.

Rob Atkinson, Managing Director at Clear Channel Outdoor explains: "We believe our network will provide the highest quality digital experience in the best locations. All of our roadside digital LED panels, which are significantly the largest in the UK, have been hand-picked due to their locations on key urban routes in central London that provide maximum dwell time."

The new panels are high resolution LED screens which use patented BarCo technology that guarantees high clarity and standout. They are in proportion to a 48-sheet billboard but 15% bigger at 6.3m by 3.4m. More than four trillion colours can be displayed and the illumination levels adapt to natural brightness throughout the day.

All the sites have been carefully selected to provide maximum exposure for advertisers, with the majority of panels situated on 30mph routes and all panels are head on to traffic at stop signals, thereby maximising dwell time. Over a two week period, the first 10 screens will offer OTS figures of 6.35m, according to the Department of Transport.

Launch advertisers include Budweiser, Triumph, Fosters, Lucozade and Mars.

The network is initially to be sold in a 60-second loop containing eight advertisers with slots of 7.5 seconds each. Advertisers will be given the opportunity to target consumers with different messages in different mindsets throughout the day. For example creatives can be uploaded to show the latest deals or rotate different copy as the market changes.

Atkinson concludes: "With consumers using more digital platforms and requiring relevant content on demand, the media industry has a duty to constantly adapt and evolve to meet their needs. By introducing the Digital Outdoor Network into its portfolio, Clear Channel Outdoor can help advertisers target hard-to-reach consumers with high quality, relevant messages 24 hours a day."

About Clear Channel Outdoor in the UK

Clear Channel Outdoor UK is the United Kingdom's leading outdoor advertising company, providing more than 70,000 advertising opportunities across its four premier brands: Clear Channel Billboards, Clear Channel Adshel, Clear Channel Pinnacle and Taxi Media. Clear Channel Adshel is the UK's leading supplier of 6-sheet advertising with 65% of the UK roadside 6-sheet market. Clear Channel Adshel offers point of sale opportunities at Sainsbury's supermarkets and in over 80 UK shopping centres as well as advertising at music venues and universities. Clear Channel Adshel also offers sites at Birmingham International Airport. Clear Channel Billboards is the market leader in 96 sheet billboards and provides a national offering of 48 sheet billboards across the United Kingdom and Ireland. Clear Channel Pinnacle offers premium advertising on over 200 special high-profile sites such as London's Cromwell Road and M4 Towers.

Clear Channel Outdoor UK introduced Audience Solutions to the marketplace in 2000 and has since extended this concept across all its formats. Audience Solutions puts the consumer at the heart of all communications and offers a flexible, responsive and relevant solution for every brief through the CCO Campaign Planning team.

About Clear Channel Outdoor

Clear Channel Outdoor (NYSE:CCO) is the world's largest outdoor advertising company with close to one million displays in 49 countries across 5 continents. In the United States, the company operates just under 200,000 advertising displays and has a presence in 49 of the top 50 Designated Market Areas. It also operates airport, rail, taxi and mall advertising businesses worldwide. Its Spectacolor (U.S.) and DEFI (international) divisions are the global market leaders in spectacular sign displays, including in New York's Times Square. Clear Channel Adshel is the company's international street furniture division, which operates over 3,500 municipal advertising contracts worldwide. Clear Channel Outdoor also operates digital displays and networks in most of its divisions. More information may be found by visiting www.clearchanneloutdoor.com