Adrian J Cotterill, Editor-in-Chief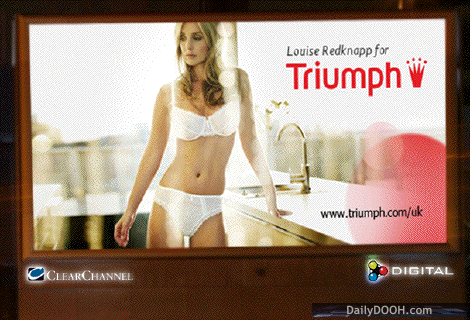 We recently hinted at these cropping up in London and have had some sneak previews over the last week of the sites in detail AND the test data running through them. However, the screen pictured here shows Louise Redknapp in some Triumph underwear in one of the launch campaigns.
Last Sunday, most of the screens seemed to be playing out almost 'real' data
though some of the pictures we took the week before were purely playing out test data, see I Like Driving In My Car and LED Announcement Tomorrow
We can tell you that the LED screens are Barco and they are using Dynamax software to run the network.
This particular screen is the Vauxhall Cross site, London.
If all the screens are the same size and format as the ones we have seen (and we are told that they are) we can tell you that they are about 15% larger than a standard 48-sheet billboard AND interestingly, by our calculations that makes them 22% bigger than the JC Decaux LEDs also recently launched.
Again our calculations show that the Daktronics LEDs supplied to JCDecaux are slightly smaller than a standard 48-sheet.