Gail Chiasson, North American Editor
LOOK Billboards, a 12-year-old outdoor advertising company in the small city of Ardmore, Oklahoma, (population: about 25,000), which this summer installed its first three digital billboards, achieved 90% advertising occupancy in the first 45 days, almost exclusively from local advertisers – many of whom didn't even know that the boards would exist until they literally were erected in one 24-hour period.
In fact, the boards almost immediately became a local attraction with people parking in nearby lots simply to watch the ads rotate in their three prime locations, including one near the local Walmart and Mountainview Mall. Ardmore, being a regional trade location, sees about 60,000 cars drive by the three locations daily.
"We have about 60 advertisers running on the boards right now," says Chris Cowlbeck, LOOK's general manager. "Advertisers include a local Ford dealership, insurance agents, real estate companies and a lot of Mom-and-Pop stores."
The company's Platinum, Gold, Silver and Bronze advertising packages allows them to offer low costs as the 10-second ads move literally from one digital board to another in their rotations. In total, the boards carry about 200 designs on each at any one time. Each advertiser buys all three boards.
"The Mom-and-Pops buy our small business package," says Cowlbeck.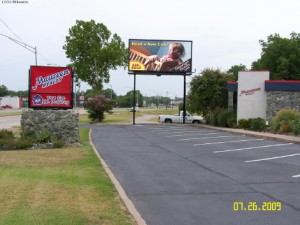 LOOK previously only offered approximately 130 traditional billboards in the southern Oklahoma region, so the new boards, manufactured by Watchfire Digital Outdoor, the digital arm of Time-o-Matic in Danville, Illinois. match these generally in size measuring 12' x 24'. However, they are highly sophisticated 19mm pixel billboards with 768 LEDs in every sq. ft. and are capable of producing 281 trillion colors,
However, it was the fact that Watchfire's boards could stand up to the vagaries of weather in Ardmore that sold Cowlbeck and his partners on using that company.
"In our area, we get tremendous winds, rains and even tornados, so we needed something solid," says Cowlbeck. He was convinced when, in visiting the Watchfire plant, he saw a board operating under water.
"We've had a 99% up-time since the boards were installed."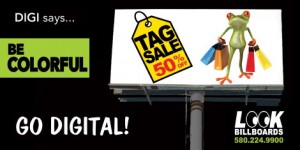 LOOK's strategy was to surprise the community and not pre-sell the advertising, but it wasn't hard to sell once advertisers took a look. City officials were also open, with Look boards open to helping the city and the state with broadcasting critical weather and roadway emergency alerts, as well as Crimestopper and Amber alerts. (In fact, a Silver alert on the Look boards – used for adults with difficulties – recently helped locate a woman with mental problems who had disappeared and was found 30 miles away.) The city itself is currently negotiating an advertising contract, as well.
LOOK has also developed a new mascot, 'Digi' the frog, which is being used in cameo appearances in various advertisements. LOOK handles its own advertising sales.