Gail Chiasson, North American Editor
Hugo Boss joined the world of gesture control advertising this fall when the company hired audio-visual experts Trinanda Media to install motion-responsive interactive gesture-control digital advertising signs in four São Paulo retail malls to promote the launch there of the perfume, Hugo Element.
Trinanda Media, GestureTek's strategic dealer in Brazil, was selected by Hugo Boss for its extensive portfolio of solutions and strong operations and customer service.
"GestureTek's ScreenFX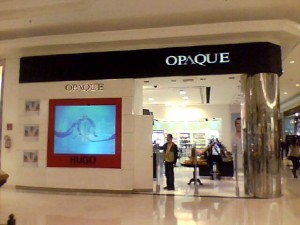 system was Trinanda's interactive technology of choice because the tracking interface is precise and robust," says Daniel Edelmuth, CEO of Trinanda Media. "The system has consistently proven popular with retail clients and in-store consumers."
The ScreenFX system is considered ideal for use on retail screens and store windows because the camera is positioned behind the display, looking out at the surrounding environment. Using GestureTek's multi-patented gesture recognition software, the ScreenFX system reacts directly to the movement of people nearby and responds with dazzling changes to the interactive images and special effects.
"The Hugo Boss display generated a tremendous amount of user interactivity, resulting in far greater retention of the Hugo Boss brand," says Regiane Scursel, Trinanda's marketing manager. "Our client's response upon completion of the campaign was one of pure delight and satisfaction."
Over 70 head-turning special effects come included with the program and were ready to be used right out-of-the-box. (Interactive screen applications can also be customized in any way imaginable. For installations requiring a multi-touch interface or immersive capability so that users can actually see themselves onscreen, Gesturetek can also deliver these advanced gesture-control technologies.)
With screenfx technology, the Hugo Element image and message were static until someone walked by or moved close to the display. Then, when people walked or moved in front of the display, they changed the graphics and imagery, making the advertising message more compelling, attention-grabbing, and engaging. People began to realize that they were the ones having an effect on changes to the ad.