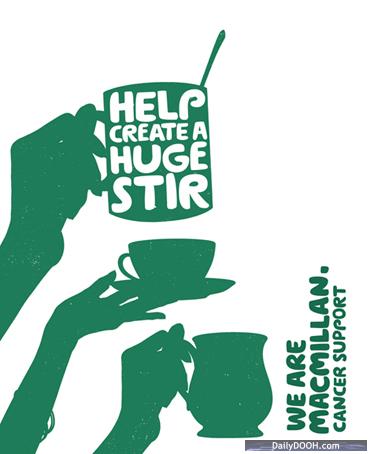 For those of you that don't know / have forgotten, WBCM stands for 'World's Biggest Coffee Morning', which was the charitable event that the Digital Out Of Home industry adopted last year. WBCM '07 was an incredible success for both Macmillan and the UK DOOH industry with over 20 networks kindly donating airtime to show a variety of ads appealing for the general public to register to hold a coffee morning in September 2007.
The DOOH campaign was the biggest 'coming together' of networks for a single event and supported a nationwide advertising campaign. The creative that was rolled out in the months preceding the coffee morning, according to the National Events Marketing Manager for Macmillan, brought the fundraising campaign direct to the public wherever they were, whatever they were doing. The event itself raised £7.5 million – a truly outstanding achievement.
This year we are aiming to better that figure and WBCM '08 will be launching over the next few months with a campaign aimed at generating registrations to hold your own coffee morning on Friday 26th September 2008.
Over the next few months we want to document the ongoing development and live progress of the project right through to the deployment of the advertising creative across the networks involved. It should make for an interesting insight into some of the processes involved in developing creative for DOOH and will give networks the opportunity to see how that creative evolves, develops and is finally brought to life in the stages before playout happens.
There will be a number of parts to this series that will document the following:
Initial creative development – storyboarding a variety of concepts
Concept development – taking the sketch ideas to the initial animation stage
Fine-tuning the animation and creative message
Delivering the animations – compression and distributions methods
So, to kick off I have included a selection of the storyboard concepts we have been working on (see below) – we met with the client last week and they have chosen a direction they want to take. We are now developing these concepts and assembling first draft animations of them to see how they work when animated. These will be available for viewing in the next post.
This idea looked at the types of food that people take with their coffee…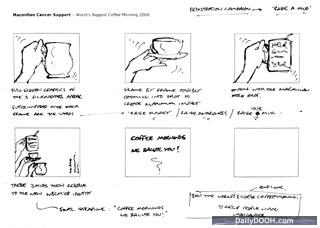 Here we investigated breaking up the identity into component parts and resolving it again at the end with a 3 part salute to coffee mornings…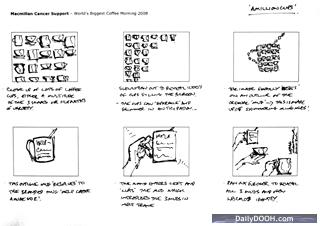 A million coffee cups was explored as the idea behind this concept – representing all the coffee mornings around the UK that we hope will take place…
The above pictures show the initial storyboarding of a variety of first concepts – they illustrate a number of ideas and potential routes we can take. The client has decided to explore a few of them so the next time round I will be posting the first batch of draft animations. Until then just a splash of milk and no sugar thanks.