Gail Chiasson, North American Editor
It's not really a screen unless you call the sky a screen but this is pretty neat either way. Some 130,000 different spectacular patterns of light will illuminate the sky above Vancouver's English Bay for 24 days as part of the Cultural Olympiad associated with the 2010 Olympic Winter Games.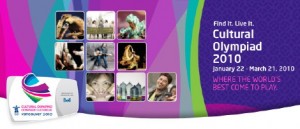 Called Vectorial Elevation, it is the first time the internationally celebrated work of art will be displayed in Canada and over a body of water.
The installation – considered one of the world's largest interactive artworks – is by Canadian artist Rafael Lozano-Hemmer and is part of CODE, the Cultural Olympiad's Digital Edition.
"The installation will not only brighten our night skies, but also bring the Games to the world in an unexpected, interactive way," says Vancouver's said Mayor Gregor Robertson. The 10,000-watt lights will move and create patterns from locations in Vanier Park and Sunset Beach that cover an area of 100,000 square metres and be visible within 15 kilometres of the city's downtown core,
From dusk to dawn, beginning Feb. 4, 2010, 20 robotic searchlights will create the canopy of light in the night sky above and on the sparkling surface of English Bay below, including designs created by people around the world and delivered via the Internet.
This large-scale temporary public art installation is co-commissioned by the City of Vancouver's Olympic and Paralympic Public Art Program and Vancouver 2010 Cultural Olympiad, presented by Bell, with support from the Province of Quebec.
More than 2 million people are expected to view the installation in person in Metro Vancouver, as well as internationally via www.vectorialvancouver.net or www.vancouver2010.com/code. The event runs regardless of the weather until Feb. 28, 2010.
Visitors to www.vectorialvancouver.net can design how the lights will move, their angles and how they are clustered in timed sequences to create their own patterns for the world to see. A personalized Web page will be automatically created for each participant to document their design. The project will operate from dusk to dawn.
"Lozano-Hemmer's inspired work manifests the spirit of connectivity that we want to convey through the entire CODE project," says Burke Taylor, vice-president of culture and celebrations for the Vancouver Organizing Committee for the 2010 Olympic and Paralympic Winter Games. "It's about using the power of digital technology to include the world in our celebrations."
A real-time video stream of the work from four cameras placed around English Bay can be accessed on the Internet. Those who opt to create patterns can also send a personal dedication to friends or a sweetheart anywhere in the world at www.vectorialvancouver.net. The project was developed in consultation with the Vancouver Board of Parks and Recreation.
Previously, the installation was staged in Mexico, Spain, Ireland, and France where it received accolades such as Lyon's prestigious Trophée des Lumières.