Gail Chiasson, North American Editor
As Design Director at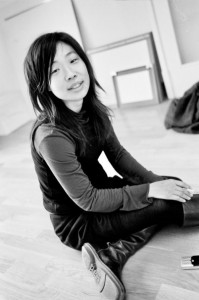 Show+Tell, Lisa Kwon directs a team of 2D/3D designers and developers from concept through final execution while interfacing with clients to translate project needs into high-end motion graphic solutions.
Describe your personal work space.

Flanked by a wall of windows, random inspirational clippings including a 'its maiz birfday' printout of a bikini clad hairy man (made by a co-worker), and an innocent collage from my niece, I sit surrounded by the necessary double HD monitor, wacom tablet, massage ball and porcelain sheep bank (for bets gone my way),

How do you get to work?

Sheer will power.

What is an average day like?

After checking my morning message from Barack and Michelle and syncing up with my team regarding current projects and new business, I either 'color by number' some ideas for advertising, broadcast and DOOH clients or execute them with my gifted animator. I also save frequently and glean new ideas from the Web.

What is essential to you being able to work happily?

Ability to DJ Major Tom and other musical etudes for the company's betterment.

How flexible are your working conditions?

If gumby was reincarnated as a gifted designer/animator, he would be laying out his monogrammed towels.

What do you think your employer looks for in its staff?

For you to strut what your mama gave you.

What suggestions do you have for your company?

To cut the fat, stay the course and enforce spontaneous disco.

Do you have any frustrations you would like to share with us?

That we don't have Snuggie Fridays.

What do you like best about your job?

That I can strut what my mama gave me.

How open is your company to new ideas and suggestions?

Like a heat-seeking missile.

How much responsibility have you been given?

Beyond lead design, team management, conference speaker and overall creative critic, I sometimes get to lock up at the end of the day.

How green are you and your company?

If I could put my compost somewhere convenient in the building I would, and so would my company.