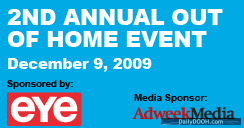 Two of our favourite folks are involved in this Advertising Club event in New York on December 9th. EYE Corporation are the 'Presenting Sponsor' and OVAB (along with the OAAA) are one of the 'Supporting Asssociations'.
The 'Media Sponsor' is AdweekMedia
All eyes are on the Second Annual Out-of-home event, join us on December 9th from 8:00 am to 2 pm, featuring stimulating sessions, colorful commentary and, of course, networking with your peers and clients.
Sessions Include:-
OUT OF HOME 2010 & BEYOND – WHAT THE FUTURE HOLDS

Moderator: Michael Burgi, Editor in Chief, Associate Publisher, Mediaweek
Panelists: Don Allman, President & CEO, Titan; WALLY KELLY, President & CEO, Americas CBS Outdoor; Paul Meyer, President & CEO, Clear Channel Outdoor; Steve Ridley, COO, Global, Kinetic; Dave Yacullo, President, Outdoor Media Group

STATE Of THE INDUSTRY

Moderator: Stuart Elliott, Advertising Columnist, New York Times
Christopher Kane, VP, Media Planning & Partnerships, Discovery Communications, LLC; Johanna Breman Tzur, SVP, Head of Brand Advertising in the US, HSBC; Additional Panelists TBA

OUTERNET

Moderator: Suzanne La Forgia, President, OVAB
Panelists: Gareth Ellen, Director of Digital, OgilvyAction; Daina Middleton, SVP, Suano, Moxie Interactive;
Patrick Moorhead, Director of Emerging Media, Razorfish

CREATIVE KEYNOTE

José Mollá, Co-Founder & Executive Creative Director, la comunidad
The event is being held at the New York Athletic Club, 180 Central Park South, New York City (Jacket and Tie Required; No Jeans Allowed) between 8:00 am – 2:00 pm (Lunch included)
Event Chair and AD Club Board Member:
Jean-Luc Decaux, Co-CEO, JCDecaux NA
Committee Members: Stephen Freitas, CMO, OAAA;
Suzanne LaForgia, OVAB; Andrea MacDonald, MacDonald
Media; Michelle Schiano, EYE; David Yacullo, President,
Outdoor Media Group

AD Club, OAAA, TAB Members: $195 / Table of Ten: $1,950
Non-Members: $275 / Table of Ten: $2,750
AD Club Young Professionals: $125
ALL companies currently shaping this medium are invited to attend; seating is limited
To REGISTER click here and follow the link.