Vodafone Portugal is using transparent Litefast MAGIC Digital Signage displays for the promotion of their mobile Internet service Vodafone 360.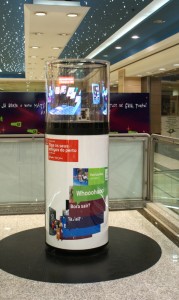 Here we see one of the crystal-clear 360° LED displays placed at the El Corte Inglés malls at Lisbon and Porto.
Vodafone was looking for something eye-catching for their Vodafone 360 communication solution, a set of new and innovative Internet services for mobile phones and PCs.
Litefast MAGIC is a German Kinoton GmbH product and it's Interesting to note that they are making a big thing about the retail product (in this case of course a mobile phone) being exhibited as part of the showcase inside the transparent display.
This picture does not show it very well but we are told by those in Spain who have seen these installs that it looks incredibly good.
The press release states "Litefast MAGIC is the world's only Digital Signage display that can demonstrate the actual product and related dynamic content at the same time" which is sort of true – you will see system integrators and retail 'cardboard engineers' use Christie Digital MIcroTiles to build screens around product real soon – see the 'BIG O' has it has been aptly named here for example.
Anyway the two Vodafone 360 phones exhibited in the showcase inside the transparent display look great and Vodafone posters inserted into the bill holders of the Litefast MAGIC displays top off the consistent branding as well, so altogether pretty much full marks.
The Litefast MAGIC displays promoting Vodafone 360 have been installed by Lifetime, Kinoton's Litefast partner for Portugal.
Kinoton will be at ISE 2010 in Amsterdam in February.
About Kinoton

Kinoton GmbH, headquartered near Munich/Germany, is a leading designer and manufacturer of professional projection and display technology. For over 60 years Kinoton's fine art of engineering and development has been conquering the international league of presentation companies. The well-established system provider with a staff of 160 employees and in-house engineering and manufacturing keeps impressing professional circles with innovative technical developments. A worldwide network of competent sales and service partners assures optimum customer satisfaction.

After decades of continuously setting new standards for studio and cinema technology resulting in two "Scientific and Engineering Awards", Kinoton has mastered the next technological challenge: Their unique Litefast 360° LED displays are especially developed for the auspicious multi-media and advertising branch.