Adrian J Cotterill, Editor-in-Chief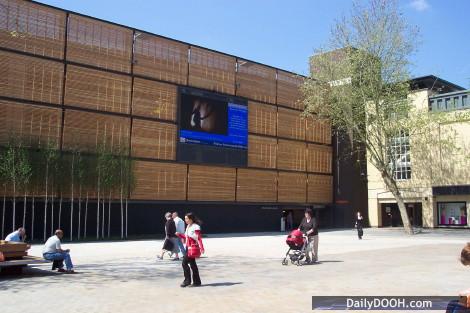 This is no reflection at all on Lighthouse or TMC but in our mind the BBC, whose official UK remit is one of television broadcasting has no right in playing in the outdoor space (nor as regular readers will know in the online space either) – err, haven't they got a better way to fritter away UK licence payers' money?, Ed
Anyway, nice big screen in my home town of Swindon, Wiltshire – picture as shown above.
UK, 3 June 2008 — Swindon town centre is set to play host to the first BBC Big Screen in the South West of England as a giant Lighthouse LED screen, installed by TMC screen specialists, is officially switched on.

'Big Screen Swindon' is the first giant, permanent BBC Screen in the South West of England and will go live on 2 May 2008. It forms part of the Wharf Green development – the first area in Swindon to be redeveloped since The New Swindon Company unveiled plans to regenerate the town centre.

Following the approval of designs for the Wharf Green by LDA Design, the large screen specialists TMC were appointed to install the giant 7 x 5 panel (7.14m x 3.8m) P16i/o Lighthouse LED screen, which has been placed along with North Façade of the Brunel West car park. It is housed in a freestanding structure, which camouflages the car park, and is controlled by a Lighthouse LIP-DX, an X-Drive Pro and an auto brightness control.

Swindon's screen is the ninth in the whole country, and from the official switch on, has become a focal point for community events and activity. It will broadcast a combination of live events, community and local content, news, sport and entertainment.

TMC Sales Director, Martin Tarpy commented: "Although Lighthouse LED panels are becoming increasingly common sight in town and city centres across the globe, it is still a comparatively rare event that a screen is installed to actively contribute towards the regeneration of an urban area."

Simon Taylor Lighthouse, Lighthouse UK General Manager, said: "We are delighted that the Lighthouse screen is able to help provide a stimulating and exciting environment in Swindon's Wharf Green and is making a genuinely constructive contribution to the town."

Carol Heneghan, Director of Marketing of The New Swindon Company, added: "Wharf Green is Swindon town centre's only open space and it really was in need of a face lift. The redevelopment and the big screen are designed to make the centre more appealing. The area is intended to be used as an event space, so it was the ideal location for the big screen – which we feel, will help to animate the square and bring it to life. Thanks to TMC for doing such a great job with the installation."
Anyway the launch didn't go as planned – Swindon's local rag the Evening Advertiser (kindly supplied by my mum) reported "GREMLINS in the system scuppered hopes for a dazzling lunchtime launch of Swindon's biggest TV screen" and no, it wasn't us doing a Gizmodo-style CES hack!
Erik Burnett-Godfree, producer for the BBC Big Screen was quoted as saying "It is way of bringing people together and taking them out of their living rooms and into the public arena. This will instil a sense of civic pride in the people of Swindon. It's given them this area where they can meet, relax and enjoy themselves." – without labouring the point – getting folks out of their living room hardly helps the already struggling commercial TV stations and when did the BBC suddenly start worrying about civic pride?
The giant 35 sq metre screen is situated on the side of the Brunel Centre's west car park.