Interactivity has been one of the components that Christie Digital have been using to help demonstrate the power of their MicroTiles.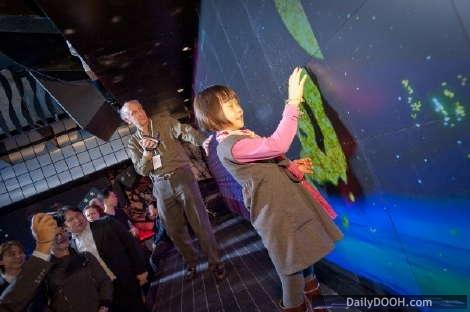 This was first seen at one of the private "whisper suite" viewings at Infocomm09 in Orlando, and is provided by Montreal based Float4 who worked in close creative association with Arsenal Media on the project but was also in action at the launch event this week.
The system can process existing content in a variety of ways like deforming the imagery as rippling water, "wiping" in new images over the top, and creating a shower of bouncing balls as gestures and arm movements are tracked by cameras. Being gesture based, you don't need to physically touch the screen to trigger it. The movement is very fluid, and can lead to lots of frenzied arm waving by those immersed in the effect!
With a large MicroTiles array being driven by very high resolution images, this highlights very nicely the high quality of the display, and its small pixel pitch. Because you can be inches away from the screen while interacting with it, you can see the sharpness of the image and vivid colours even when very close up.