STRATACACHE this week announced the development of an iPhone application for its award-winning digital signage software, ActiVia for Media.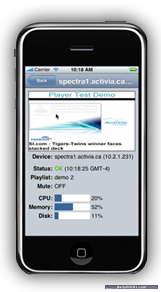 The ActiVia iPhone App allows mobile users to manage digital signage networks from the palm of their hand. With access to the ActiVia Constellation Manager admin console, the ActiVia iPhone App provides a system overview dashboard for the entire signage network, in addition to vital device management, monitoring, and media channel functionalities.
The ActiVia iPhone App is ideal for environments such as QSR, hospitality, and retail where a local user, who may not have ongoing access to a PC, can manage their signage network while performing duties on the go.
A 'search' functionality makes edge devices within a large network easy to find. The app provides several ways to organize the devices such as host name, IP address and location. With the ActiVia iPhone App, performing operations on specific devices or device groups is simple and convenient.
Louie Hollmeyer, STRATACACHE VP of Marketing told us "The ActiVia iPhone App is another step in our development roadmap to lower the overall cost of operating a digital signage system"
He added "Plus, it's handy and cool."
Screen shots of the media playing on each device within the network can be viewed on the iPhone and content updates can be executed. Location maps can also be displayed for each media player.
The 'commands' status functionality allows users to view all commands (past, present, and scheduled) issued by the currently logged on user, as well as commands of subordinate users. Each command is associated with a command status. Role-based access control (RBAC) is also supported.