In a 2-week out-of-home campaign, a specially designed 42" interactive screen has been installed at a bus shelter on Tottenham Court Road featuring video content shot by renowned commercial director, Frank Bryant.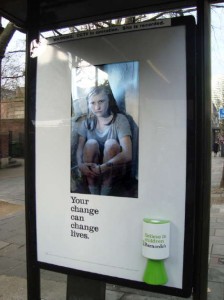 Pedestrians and commuters will be able to watch a looped clip of a young female crying with a call to action gesturing the viewer to make a donation into the integral donation box.
Any donation prompts the video to change revealing the female in a composed state and a thank you message to the donor! Clever!
This special campaign with JCDecaux Innovate was booked through Hyperspace, the innovations division of Posterscope and the creative agency was BBH.
Richard Simkins, Senior Project Manager, Hyperspace told us "We wanted the out-of-home to bring to life Barnardo's Turn Around campaign, and this interactive screen with the donation box was the perfect solution. It is perfectly aligned with the TV advert while allowing the viewer to engage with the message in the real world. We have high hopes that this will be a most successful campaign and generate a lot of support and awareness for Barnardo's"
All monies donated throughout the out-of-home campaign will be presented to the charity in early January.
Note: As it's a London bus stop (on the Tottenham Court Road) the site will be visited on a daily basis to ensure any donations are not left on site over night.