We have been asked a lot recently when and where folks will be able to see Christie Digital MicroTiles in Europe.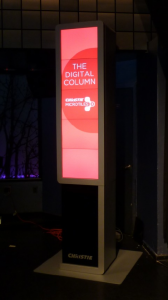 We are pleased to say that the first opportunity is not far away – Feb 2nd to 4th in fact at ISE in Amsterdam – Christie of course are Platinum sponsors of ISE.
Christie will have some MicroTiles on their own stand, most probably built into a display wall and (even more exciting) will have various MicroTile creations scattered around the event itself.
Their 16-sheet creation will also be on their own (Christie) stand but we'd expect to see the skyscraper somewhere on a software vendor's stand.
With a bit of luck you will likely see the Big 'O' in our very own Blogger Lounge.
Our planning for ISE continues apace; looks like we may well have our very own espresso and cappuccino man on our stand as well as all those comfy sofas!