Adrian J Cotterill, Editor-in-Chief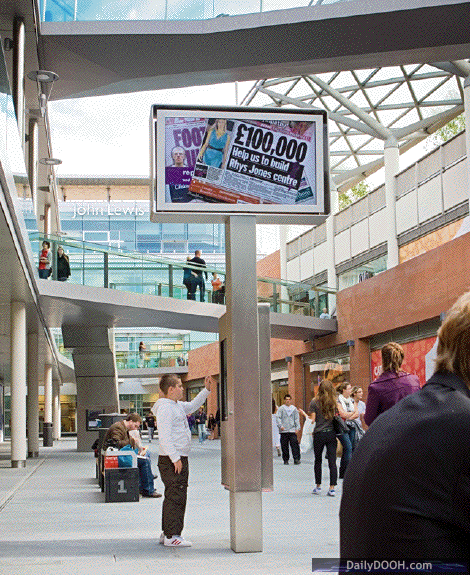 These Street Broadcast "InfoPods" are just weird but perhaps the more eye catching for that – a small screen (these days 57″ is small) in landscape and stuck on top of a high pole?
Note in the picture the young boy 'interacting' with the InfoPod with a touchscreen on the left hand side of the pole.
Street Broadcast describe STREETLIVE INFOPODS as…
57" HD daylight viewable screens that use cutting edge real-time technology to display up to the minute advertising and news broadcasts provided by Trinity Mirror. Since going live retailers at the development including New Look have been booking the screens. Bluetooth will be added in the next two weeks.
LIVERPOOL ONE is a new development in the heart of Liverpool itself – basically developed over 42 acres in the centre of the city, creating new shops, leisure and living facilities and in the process creating (calm down, calm down) 7,000 jobs.
LIVERPOOL ONE consists of six districts with their own distinctive character, Hanover St, Peter's Lane, Paradise St, South John St, Chavasse Park. 30 individually designed buildings, 1.6 million sq ft of retail space, a 14 screen cinema, 230,000 square feet of restaurants, cafés and bars. Together with more than 600 new apartments, two hotels, offices, the revitalised five acre Chavasse Park, and a new public transport interchange.