Adrian J Cotterill, Editor-in-Chief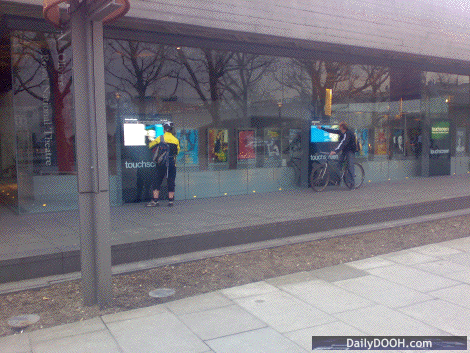 Touch screens are not just appearing all over the place in retail – it seems to be ANY window at the moment!
Here we see three x 42 inch LCD thru-glass touch screen systems at London's National Theatre.
First installed a couple of months ago, this is a good example of an information service provided for the passing public walking along the south bank – this picture wasn't posed – if you look carefully enough you can not only see two out of the three touchscreens being used but one guy on a bike having stopped to use it!
The content on screens, written by Toby Coffey of the National Theatre we believe, provides up to date information on "what's on", "what's coming", "special offers" and details on seating in each of the theatres.
All three systems are connected to the National Theatre internal network so up to date information can be sent to each of the PC's driving the touch screens.
The touch screens are Visual Planet's ViP Interactive foils which are applied directly to the inside of the windows (these are the folks who did the Carphone Warehouse install we reported on last month).
The LCD kiosks were built by the National Theatre themselves and are pushed up against the back of the touch foils completing the touch solution.
Visual Planet tell us that 'touch' works through the 10mm window – in fact we are told that they can work through 25mm of solid glass. This make everything totally secure behind the glass of course.