Adrian J Cotterill, Editor-in-Chief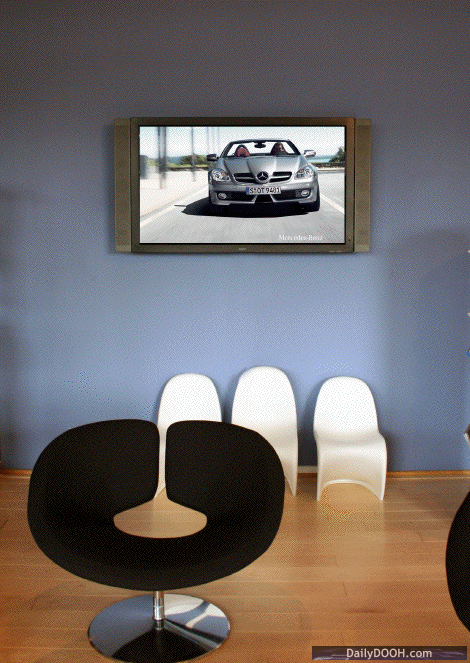 Car dealerships in Europe must rank amongst some of the worse implementations and deployments of Digital Signage and TV (Screens) we have ever seen – someone will tell us we are wrong and point out a good one I am sure, Ed
We do quite like what Razor Communications (a subsidiary of ScreenMedia Group) are doing (mainly) in the North of England…
Razor Communications is a media owner and operates and manages screen networks in prestige car showrooms and leisure outlets including hotels and the Metro Radio Arena in Newcastle.
…but apart from that we have seen little anywhere in Europe that has inspired us!
Interesting then to see an announcement yesterday from Belgium based iDklic who describe themselves as an 'alternative out of home media' agency' with regard Mercedes-Benz Belgium-Luxembourg who have become the first in BeNeLux to deploy a Digital Signage initiative AND it is not just a small rollout or a pilot install it is in 65 dealerships!
We have only seen the press photographs so far – common mistakes in car dealership installations are poor, uninviting content, lack of interactivity (the sales people should be able to use the screens as a sales tool), screens placed too high and usually a lack of feel-good editorial content (rather than product message followed by product message) – oh yes and please NO weather information!
We are told that the selection of the content as well as the front-end programming will be run out of Mercedes-Benz Belux and the network of screens itself will be managed from Mercedes-Benz headquarters in Woluwe.
Jean-Charles Figoni, co-founder and Managing Director of iDklic also tells us that the content selected for the car dealerships mainly originates from Mercedes-Benz TV – if that is anything like the truly awful Audi TV Channel you can get on SKY and Cable then heaven help them!
The press release goes on to say that "the entire broadcast loop is a well studied mixture of television commercials and documentaries" – arrrghhhh then they are truly screwed!!
They do say that the ultimate playlist combines Mercedes-Benz product videos with information about the cars and other products to "improve customer communications, marketing and sales efforts, and to influence purchasing decisions at the point of sale" and so it is unfair of us to heavily criticise the content (especially without seeing it) but it does sound like this might be an unimaginative use of digital signage.
About iDklic

iDklic is a specialised high-end operator of digital signage networks in Belgium. Today, it has access to more than 200 salespoints. iDklic is a leading innovator in digital signage solutions, providing businesses with efficient digital signage tools and creative messaging. It offers clients the ability to manage a digital signage network from one central location, as well as delivering an array of services such as consulting, creative development, project management, installation, hosting and training services. The company's main focus is on the pharmaceutical market and luxury segments.