Russ Curry, Ministry of New Media
As mentioned last week, SFR, France's second biggest mobile operator, has just opened its new flagship store in the centre of Paris (near the Opera) – in this post our Paris based contributor covers in a lot more detail one of the nicest flagship stores we have ever seen!!
The store has 50 square meters of glass front and covers over 1000m² of floor space with which it hopes will attract 500 000 visitors per year.
There are now 765 'Espace SFR boutiques' across France and the 'Studio SFR' is the largest, with over 250 mobile devices on display. Indeed, it claims to be the largest in Europe.
In what appears to be a calculated re-positioning of the brand towards being a music distributor, SFR is taking the FNAC and the VIRGIN MEGASTORE chains head on. The restaurant & lounge bar are clearly inspired by Megastore on the Champs Elysees. The show-case concert hall, which covers the ground floor and which can accommodate 100 spectators seated or 200 standing, follows a direction set years ago by the FNAC, France's leading retailer for cultural goods (books, music, hi-fi etc..)
However, SFR's execution is decidedly futuristic hi-tech. The all white bar has a free Wi-Fi connection and is equipped with six computers all with free access.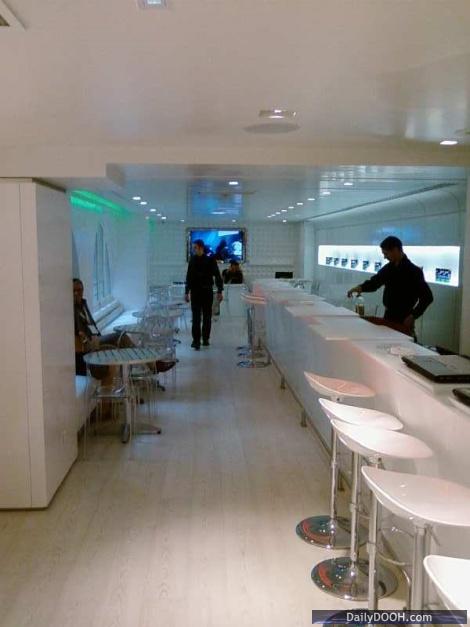 The 'Carré Rouge' restaurant which can accommodate 120 diners, could have been designed by Phillipe Starck. But the heart of the store is the state-of-the-art studio which is equipped for live recording & broadcast of events and concerts, with its own mixing console and a wall of screens. SFR plans to organize 6 concerts per month exclusively for its customers, thanks to its partnerships with local Paris venues the Olympia, the Zenith, and the Cigale as well as its own 'SFR Young Talents' campaign.
One innovative feature in the concert hall is the "musical showers", which are hubs of digital music. It's possible to listen under an acoustic bubble (without headphones) to the new releases in the SFR Music catalogue and download your choice by means of a self-service touch screen. And while they're there, SFR customers get bombarded by Bluetooth push messages inviting them to discover the special offers and new mobiles on the 2nd floor.
Over 100 kms of cables link a network of 100 Plasma & LCD screens, 20 interactive kiosks and 240 LCD shelf display units. The screens relay a live news TV channel, SFR's own DS loop (created by Mood Media) as well as a direct feed to the concert hall.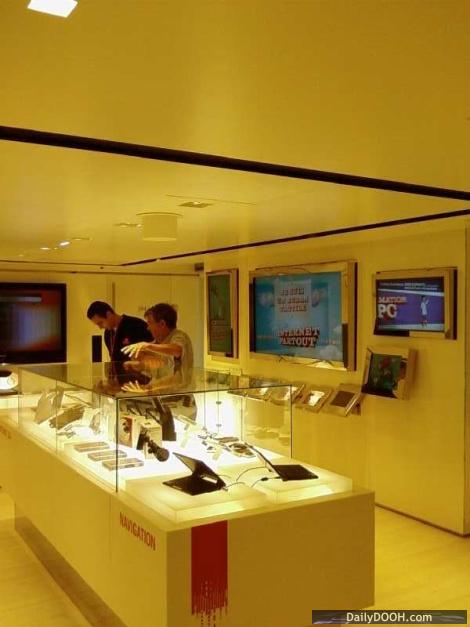 While your intrepid reporter was there, local star Christophe Willem was busy signing autographs after his 5pm showcase. (For reference he would normally expect to sell out the 7000 capacity Zenith)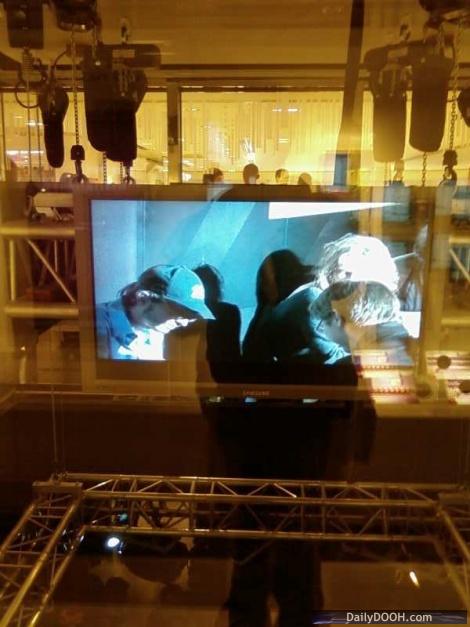 Total cost of the exercise: just over 10 million Euros.
Objective : 15.000 to 20.000 sales per annum.
About SFR

SFR is co-owned by Vivendi (50.8%) and Vodafone. They are France's second biggest operator with 18, 8 million clients at the end of 2007 and an annual turnover of €9 billion. Music has been at the forefront of SFR's offer since the launching of 3G. The operator claims a share of market of 51% in volume in music downloads to mobile phones, with 4,1 million titles or albums downloaded between January and May 2008. With this new venture they seem determined to increase that share.