Adrian J Cotterill, Editor-in-Chief
Here we see C-nario's digital signage platform powering the huge main storefront display of Turk Telekom's new concept showroom in Istanbul – TTGaleri.
Turk Telekom is Turkey's largest telecommunications provider, Europe's 5th and the world's 13th largest fixed telephone operator.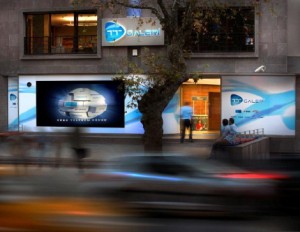 The storefront display is part of a large project implemented by Dreambox, a multi-disciplinary design and production company based in Istanbul.
The showroom serves three companies of the Turk Telekom Group: Turk Telekom, GSM wireless operator Avea, and Internet service provider TTNet.
C-nario's platform enables TTGaleri to display advertisements on a huge screen, while projecting the video seamlessly both horizontally and vertically using six projectors in two rows (3X2).
Ece Sancak, Marketing Strategy Director, Dreambox told us "The unique content, custom sofware and designs produced for Turk Telekom Group by Dreambox enables TTGaleri to provide visitors with information about Turk Telekom Group, its products and services, in an entertaining way, while promoting and enhancing the brand"
The showroom includes a variety of attractions, designed and implemented by Dreambox, including multi-touch multi-user game tables, gesture-controlled wall projection games, a soccer game floor, multi-touch and single-touch infotainment kiosks and others.
A custom-designed interactive digital assistant welcomes visitors.
About Dreambox

Dreambox is a multi-disciplinary visual design and production company specializing in screen media. Founded in 2001, Dreambox provides a wide range of services, from broadcast branding and motion design to new media, and from production to digital signage and technology, using the synergy of multiple screen discipline. Dreambox's creativity and innovation in design and technology has won prestigious awards from the international industry. Dreambox won Best in Class in the Real Estate category at IMA (Interactive Media Awards) with the İstanbul Sapphire Web Site and took silver in the Best News & Factual Programme Title Sequence category at Promax/BDA (Broadcast Designers Association) in 2007. In 2008, the ATV project won gold in the Best Sting category, and TVNet News won silver in the Best News & Factual Programme Title Sequence category at Promax/BDA. Success in broadcast design continued in 2009, with İddaalı Bakiş winning silver for Best Programme Packaging. Dreambox's latest digital signage and technology project, TTGaleri, was awarded silver at DSE 2010 APEX Awards.