Sir Paul McCartney is the latest entertainment client of ours to make use of the content creation flexibility of DOOH advertising.
Using the poster assets (already) advertising his latest concert at the Millennium Stadium in Cardiff, Amigo Digital developed some simple creative animations to bring the poster campaign to life.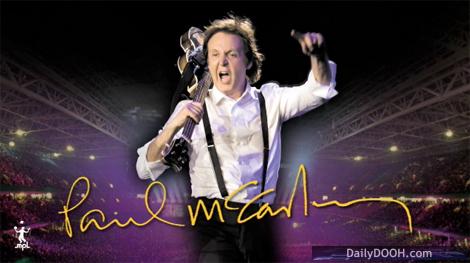 Three screen specifications were required, in the Queen Street arcade, at the entrance to the new St Davids 2 shopping mall and a set of animations developed for the 'digital ribbons' that run around the Stadium ground during matches – in this instance during the Wales vs Italy rugby match shown on TV on Saturday.
Dates and times were able to be changed very quickly with different messages dependent on different locations being used within each of the adverts. A good example of how DOOH can react quickly, locally and with relevance.