Adrian J Cotterill, Editor-in-Chief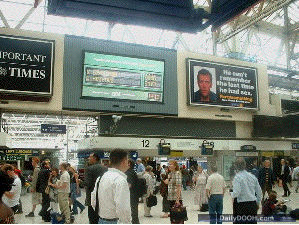 Putting together the World's Biggest Coffee Morning Digital Campaign for Macmillan Cancer Support was a big learning for me.
The chance to talk to the technical / scheduling folks at 20+ of the UK's largest networks was informative in itself.
Perhaps the biggest learning was when talking to the traditional outdoor advertising folks. It seems that all of them have a policy of if-possible giving away, what they call distressed posters to charitable causes.
It got me thinking that in the world of digital the term "distressed poster" brings on a whole different meaning.
If you take the concept of the digital "Content Wheel" then it is surely a no brainer that a certain proportion of time can be allocated to content for good causes?
How the 'good causes' gets used of course is up to the network but perhaps there should also be a way of having the equivalent of local and national (advertising) causes?
Ajay Chowdhury, Group CEO of EnQii described in his preliminary talk to the Screen's Network Owners Forum (NOF) last Friday how some of their networks had been used to help find missing children in the US.
Anyway, some good further good news for Macmillan Cancer Support – it is not definite and it depends on schedule availability but it looks likely that Titan Transvision will be able to play out the World's Biggest Coffee Morning creative on Monday 24th and Tuesday 25th September (gr8 timing as this is the lead up to the big event on Friday 28th September).
Amigo Digital re-jigged the content (the 15th version of the creative) this morning.