JCDecaux SA (Euronext Paris: DEC) announced yesterday that it had been awarded the advertising franchise contracts with BAA, the world's leading airport operator for Heathrow, Heathrow Express, Aberdeen, Edinburgh and Glasgow airports.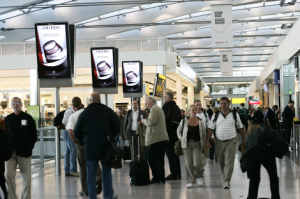 The contracts were awarded following a competitive tender for a potential 8-year term.
Julie France, Managing Director of JCDecaux Airport in the UK told us "This is a great win and we are delighted to have the opportunity to build on our established partnership with BAA. It will give our clients access to the most significant airports in the UK. Heathrow and Heathrow Express will cement our position as the No 1 choice to reach the premium international traveller. Our Scottish airports will play a key role as global gateways and are an intrinsic part of the local media marketplace. Our offer focused on innovation, including the expansion of digital and the application of near-field marketing technology and augmented reality concepts. The contract comes at an exciting time for UK airports with the Olympics in July 2012."
This contract cements JCDecaux's position in airport advertising which includes 7 of the top 10 airport hubs: London, New York, Paris, Los Angeles, Dallas, Shanghai and Beijing.
JCDecaux currently operates advertising concessions in 163 airports worldwide, providing advertisers with a potential audience of 1.1 billion passengers a year.