Gail Chiasson, North American Editor
If you want to know how your customers will react to your store's digital signage if it's placed in certain areas rather than others, or even if your store design itself is pleasing to your customers, you may want to drop into NeuroFocus's just launched 3D virtual reality lab in Berkeley, California.
NeuroFocus, leading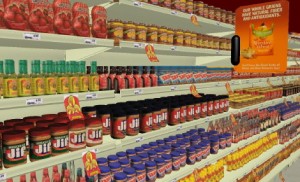 neuromarketing firm, is introducing a breakthrough 3D virtual store technology that management says leapfrogs all other virtual reality systems in the marketplace. Code named N-Matrix 3D, the landmark neuroscience-based platform enables companies to test product designs, packaging, and entire store layouts – including digital signage positioning – with startling clarity, detail, and flexibility.
Based on neuroscientific research, the N-Matrix 3D virtual reality shopper insights system applies advanced, proprietary digital technology that is on a par with what 'Avatar 3D' incorporates. The patented software applies neuroscientific knowledge of how the brain perceives and analyzes products, package designs, and store settings to create three-dimensional virtual renderings that stimulate the subconscious to process them as it does in reality.
In other words, this is a means for marketers who want to learn how their customers will react when they look at your product, layout, digital signage and more through the measurement of their brainwave activity.
Conventional market research capabilities in the retail sector are severely constrained in terms of their ability to alter scenarios and individual elements.
"The N-Matrix 3D allows a store manager, for example, to recreate his store in 3D," says Tom Robbins, director of public relations at NeuroFocus. "And it goes way beyond what you can learn through a focus group or a machine that allows someone to press a button in reaction to what he sees. These only give you impressions after the fact of having seen something. N-Matrix 3D gives the actual brainwave response – how a consumer responds subconsciously as he walks through the store, sees a digital sign for the first time, or examines a product."
In this case, a 'potential customer' puts on 3D glasses and a special glove, and then virtually walks through the store aisles, looks at signs, picks up products (which he can turn around to examine the packaging, for example) and basically acts as any shopper would while in a store.
Current 2D virtual reality technologies cannot meet the brain's desire and expectation for critical elements such as lifelike lighting and shadows, depth perception, and details. The result is that the brain is forced to add in such elements itself to satisfy these subconscious demands, rendering the results of such virtual reality research imperfect at best and unreliable at worst.
In sharp contrast, the N-Matrix 3D system reproduces entire environments and the individual elements contained within them in extremely fine detail, incorporating the other neurologically critical visual cues of realistic lighting and perspective.
NeuroFocus developed the N-Matrix 3D technology using advanced knowledge gained in world-leading neuroscience laboratories, and the company's own extensive brainwave-based research projects.
"We can give manufacturers, marketers, and retailers what they have always sought but could not have until now: an extremely lifelike testing environment that also allows endless opportunities for quickly altering every element from the macro to the micro," says Dr. A. K. Pradeep, NeuroFocus CEO. "N-Matrix 3D signals the end of trade-offs in market research, where until now compromises had to be made and accepted. We are bringing the real world right into the laboratory by adding the critical third dimension to virtual reality, and at the same time we're also providing the flexibility to alter that reality with speed and scalability."
N-Matrix 3D enables changes to be made immediately to entire store settings, scaling down to individual elements including digital signage and pricing, while maintaining all the critical three-dimensional cues that the brain requires for credibility. NeuroFocus's new software creates individualized 'skins' for any specific retailer, from big-box outlets to convenience stores, so that the testing environment replicates the real world setting in every respect.
By using touch-sensitive gloves with which subjects can reach out and pick up products and view them exactly as they would in an actual store or other real-world setting, this interaction enables companies to gain accurate, actionable knowledge of how consumers respond to all components of product designs and packaging at the subconscious level, where critical impressions and key decisions such as purchase intent are made.
N-Matrix 3D's extensive development has been well tested and results have proven to be highly predictive of consumer behavior in the marketplace.
"N-Matrix 3D is founded on several key neuroscientific principles and specific brain functions," says Dr. Steven Miller, director of global NeuroLab operations for NeuroFocus. "We leverage our brain's ability to extract and interpret spatial, depth, color, and motion information, which are centered in the brain's visual association cortex."
Robbins says that the cost of this research is competitive in price to other research.
"With a survey, you have to research a large number of people to have a true representative sample," he says. "With N-Matrix 3D, you could know what you need with scientific accuracy after having 20 people pass through the virtual store.
"Further, most human brains are similar all around the world, no matter what country or culture. There are differences between young and old, and between women and men, but what is learned in the 3D neuroscience lab would be accurate for any country."
N-Matrix 3D will be available exclusively to current and potential NeuroLab clients. NeuroLabs are neurological testing centers that NeuroFocus designs, builds, staffs, and operates on behalf of individual clients around the world. NeuroFocus has NeuroLabs in operation in multiple U.S. markets, as well as in the UK/European, Asia/Pacific, and Latin American regions.
"Our goal with N-Matrix 3D was to create the sense of reality in a lab setting that would allow test subjects to experience the critical subconscious cues that drive perceptions and purchase decisions," said Ratnakar Dev, NeuroFocus' chief architect and technical leader for the N-Matrix 3D system. "Designing this 3D virtual reality environment from the ground up using neuroscience is the breakthrough. We live and buy and consume products in a three dimensional world. Now we can test products and store environments the same way we shop."
The world's leading neuromarketing firm, NeuroFocus brings advanced neuroscience knowledge and expertise to the worlds of branding, product development and packaging, advertising, in-store marketing, and entertainment. NeuroFocus clients include Fortune 100 companies across dozens of categories, including automotive, consumer packaged goods, food and beverage, financial services, Internet, pharmaceutical, retail, and many more sectors. Entertainment category clients include major companies in the broadcast and cable television and motion picture industries.

Headquartered in the U.S. and operating globally through offices and NeuroLabs in the UK and Europe, the Asia/Pacific region, Latin America, and the Middle East, the company leverages Nobel Prize caliber and Doctorate-level credentials in neuroscience and marketing from the University of California at Berkeley, MIT, Harvard, Oxford, Columbia University, and other leading institutions, combined with executive business management and consulting experience. The Nielsen Company is a strategic investor in NeuroFocus.