Gail Chiasson, North American Editor
We're not quite sure in which category this fits, but we found this an interesting media product that we haven't seen before.
The commemorative NFL Champions book presented June 16 to the players, coaching staff and management of the Super Bowl championship-winning New Orleans Saints during their Ring Ceremony is no ordinary book.
To celebrate the story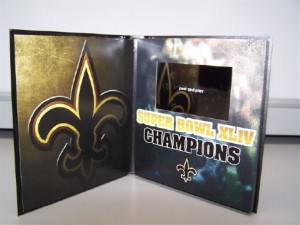 of the Saints Super Bowl victory in a way that truly captures the exhilaration of a triumph that both celebrated and defined the rebuilding and resurrection of New Orleans, each member was presented with a book that is a breakthrough in integrated paper and video technology created by Americhip, Los Angeles. The book allows readers to flip through cover-to-cover as normal – as well as through a paper-thin video screen, allowing viewers to re-live the highlights of the unforgettable 2009 run to glory.
"When we all sat down to plan our ring ceremony, we wanted something special that would be able to capture the passion, the energy, and the power that this win represented not just for us, but for this city," says Mickey Loomis, the Saints' executive vice- president general manager. "It is a keepsake, so our decision was made easy when Americhip presented a new technology that could provide us with something this extraordinary."
Tim Clegg, CEO of Americhip, says,"We could not think of a better way to cap their amazing season than to help make the Saints Ring Ceremony truly unforgettable, in every sense of the word. This is the gift of Video in Print – it makes memories instantly accessible. How fantastic is that!"
There are more surprises revealed in the book: Loomis and Sean Payton, the Saint' head coach, had a customized segment created at the end of the highlight video that brilliantly represents the Saints fighting spirit.
"Prior to most games, we present to the players a video that is produced that week in-house with a specific message geared towards that upcoming game," says Payton. "This one depicts great battles and was perfect for our pre-Super Bowl meetings."
Loomis says that the book is a celebration of that victory, and should make people happy every time they look at it, briningg them right back to that defining season.
Los Angeles based Americhip is a pioneer of Video in Print and specialist in developing multisensory marketing technologies that make it possible for people not only to read – but to hear, watch, view and engage with the action. Americhip operates in 15 countries worldwide.