Back in 2008 when JCDecaux Dicon won the exclusive ten-year advertising contract at Dubai International Airport, Chairman and co-chief executive Jean-Charles Decaux was quoted as saying "We will install innovative products with a strong digital and interactive component that will make Dubai International a benchmark for the industry."
Well here's their highly visible Welcome Digital Corridor comprising twelve x 57-inch HD LCD screens suspended along the main passage to passport control at the Arrivals in Terminal 1.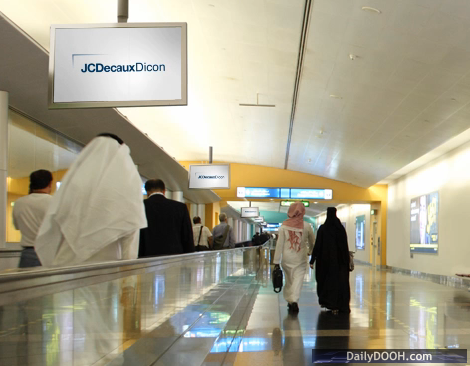 Passengers will spend 2 to 3 minutes along the 'corridor' and of course see the brand messages repeatedly.
The airport saw 40m passengers pass through it back in 2008 though that figure is still expected to rise to 60m by 2012 and eventually to 75m annually as expansion continues.
JCDecaux Dicon is 75 percent owned by the French-headquartered firm, with a 25 stake held by local company Dicon.