Adrian J Cotterill, Editor-in-Chief
Texas Digital, "a leading provider of real-time visual communication solutions, delivering business vitals to customers for over 30 years" in a partnership with NEC is in line we believe to win the industry RFP for digital menu boards for Dunkin' Donuts.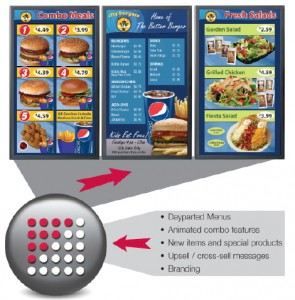 They'd be looking, we guess, to offer up their VitalCAST Digital Menu Board software.
Texas Digital's VitalCAST is described as "a state-of-the-art menuboard solution that brings excitement to your restaurant merchandising. Captivating, dynamic menus command attention and increase sales. Menu boards can be customized, changed and updated in near real time with flawless execution".
VitalCAST features an easy-to-use, scalable platform that allows you to manage displays in multiple locations, from across town to the other side of the world, all from one central workstation.
There are four finalists for the Dunkin' Brands Digital Menu Board project – all of whom have been invited to the next step in the selection process: vendor presentations and scripted demonstrations at Dunkin' Brands headquarters in the next few weeks.