Adrian J Cotterill, Editor-in-Chief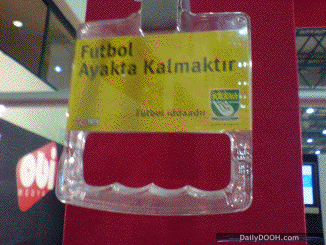 Co-ordinating media in venues with non-digital agencies is key to the success of digital out of home, yet it is something that is often given short shrift.
It is difficult as competing agencies vie for advertising budgets and often do not wish to co-operate – all of this is to the detriment of course to the brands, that we are supposed to be working for.
In Gyms and Health Clubs for example, the UK's Boomerang Digital has in the past taken their on-screen message to the inside of (kit) lockers and via floor prints (they even looked at branding shower mats) yet I don't believe they have succeeded in co-ordinating anything with Primesight (the poster specialist in many Gyms in the UK).
Placing the on-screen digital messages and branding elsewhere will pay dividends in the long run if you can possibly arrange / co-ordinate.
If you are into buses or trains then you might like this (I think) incredibly innovative 'Strap' shown above. It's a strap that you would use on the Underground / Metro or a bus or perhaps a tram to hold onto.
It's made of plastic and the marketing message is slotted securely inside the strap. Simple and clever.