Adrian J Cotterill, Editor-in-Chief
The creative for British Airways was the worthy winner of Friday's inaugural Ocean Outdoor Live Creative Competition.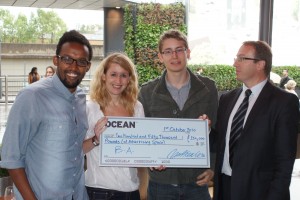 Here we see Tim Bleakley (Ocean Outdoor's CEO far right) present the winning creative agency with a cheque for GBP 250,000 worth of media for their client. They were also presented with tickets for free flights to San Francisco.
GOLD therefore went to this BA creative, SILVER to the creative for Warner Bros. new film Legend of the Guardians and BRONZE to the creative for Superdrug.
Craig Morgan, MD Elvis summed up the feeling of the judges when he said that "the best execution was probably 'Legend of the Guardians' but overall the best campaign and creative idea was for British Airways".
The judges particularly liked the live element of the animated poster (webcam footage of the bikini clad lady on her laptop) and the interactive nature of the campaign (bikini lady responds to twitter) – via this interaction, the public are invited to guess where she is located helped by the answers she gives to questions coming in on twitter.
Personally I liked all of that and the fact that there was subtle movement of said bikini lady in the webcam usage – pretty much a 'true' animated poster in my eyes, see '
Kinetic Proves The Value Of Digital Posters
'.
This is a great piece of research from Kinetic which should be required reading before anyone is let loose designing content for a digital screen!!
However, you wouldn't be surprised to know that I did not like the ticker on the screen which I made mention of to the other judges (and to the assembled crowd when I did my little spiel during the awards ceremony you will be pleased to know). The designers had a word with me after the event and said that they had suggested to the client that twitter "should roll in from the waves" which would have been great but the client evidently insisted on 'scrolling text' saying that's what people were used to.
It seems that we as an industry have some way to go to demonstrate better ways of presenting live data on screen – flippers and such like (especially flipper demos) need to be in the content / creative agencies toolbox ready to show to their clients!
This was a great initiative by Ocean Outdoor who should be thoroughly commended on kicking this competition off. We look forward to the same competition this time next year.