Adrian J Cotterill, Editor-in-Chief
We predicted back at the beginning of 2008 that Shape would eventually triumph over boring 4:3 and dull old 16:9 and along with MicroTiles we now have another revolutionary technology that allows shapes to be made with some ease – here we see Prysm Life-size displays being used to enhance the immersive brand experience for customers at American Eagle Outfitters in SOHO, NYC.
We actually first wrote about this install back on 2nd November in our post '
First Prysm Installs (NYC)
' but now it's official and we have some proper photographs.
First of all, this is the first retail installation of the Prysm Laser Phosphor Display (LPD) solution. Here Prysm's high-definition stackable display building blocks have enabled American Eagle Outfitters to deliver high-impact brand imagery throughout the store.
Multiple displays standing seven-feet tall have been arranged throughout the three-story, 24,000 square-foot retail space. There are three columns in the main entrance working as both window displays and in-store branding. Four columns are presented at the escalator gateways, guiding customers to each level of the store.
Amit Jain, CEO of Prysm told us "Prysm displays create a more engaging and immersive brand experience for the retail environment. Our solution is unique in that it offers a spectacular image at any viewing angle with the ability to create any size and shape display."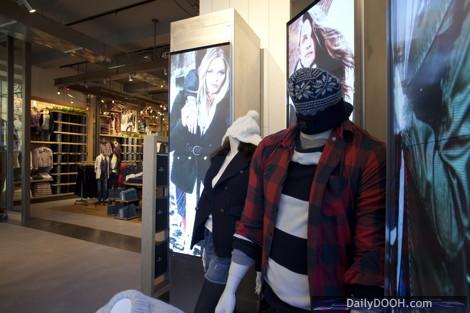 "We're very excited to be part of American Eagle Outfitters retail merchandising plans," said Dana Corey, vice president of sales of Prysm. "American Eagle Outfitters marks our first retail installation, so serving them is an important milestone for the company as we ramp up our business."
Diversified Media Group did the installion