Adrian J Cotterill, Editor-in-Chief
If you live in the UK you will be waking up this morning to more deep. deep snow, more travel chaos (as if there could be more) and (if you didn't watch it last night) news that 31-year-old Stella English was hired by Lord Sugar as his Apprentice and crowned winner of the BBC reality show.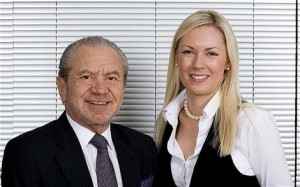 It had previously been reported that "the new series of The Apprentice will see a shake-up of the old format. Rather than landing a £100,000-a-year job, the winner will get £250,000 to fund a business of their choice and Lord Sugar will be a 50 per cent shareholder" BUT that doesn't seem to have happened.
For the last few years that £100,000-a-year job was with Amscreen and poor old Amscreen CEO Simon Sugar has been given a 'mixed bag' of talent – some of them plainly up their own arse and some of them intelligent, driven and quite nice.
Perhaps its a shame then that this time round the victor will not be heading over to Amscreen, Stella English came across (on telly, we've never met her personally) as one of the best candidates to ever win the series. Stella will work as a product manager for Lord Sugar's computer manufacturing firm Viglen.
VIglen's (new) headquarters doubles up as one of the filming locations for the BBC show The Apprentice, with various scenes including the infamous 'job interviews' being set there and the final scene of each programme, showing the contestant leaving the building and boarding a taxi is also filmed at the Viglen Headquarters so Stella will at least know her way around her new offices.