Adrian J Cotterill, Editor-in-Chief
Not only will Paradigm Audio Visual be placing a rear-projection rig on the Hitachi stand to help the company show off the capabilities of its new projectors it has its own stand at #ISEUROPE which will be geared towards the export market, and will thus focus on engineered solutions and its bespoke manufacturing skills.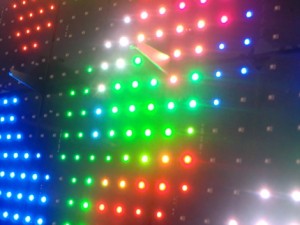 The portfolio will range from products like the Visual Planet interactive foil up to the eye-catching Pepper's Ghost.
The latter will deliver a 100" virtual image based on the new dnp Zenith rear projection screen, a Paradigm rig and specially-selected Pepper's Ghost foil.
It may also incorporate some interactivity in the form of GestureTek's Airpoint.
This feature will also demonstrate the design and techniques Paradigm has employed to help its client Flipside win an industry award for the display they jointly engineered for General Dynamics at Eurosatory in Paris — a huge military and simulation show held every two years.
Visitors should also look to engage with a stunning 110″ 16:9 interactive display, based on a dnp Sigma screen and Paradigm rear projection rig. The interactivity will be supplied by a 110″ capacitive foil manufactured by Visual Planet — and the wall will be used to display a huge array of Paradigm case studies.
 
In addition Paradigm will be demonstrating its new ultra flat glass mirror surface.
 
The company will also provide a host stand for the launch of lighting veteran, Peter Ed's new enterprise, Light Emissions — which will introduce new concepts in large scale video based graphics to new market sectors.
 
Paradigm Audio Visual are in Hall 3 on stand #3A87.