Adrian J Cotterill, Editor-in-Chief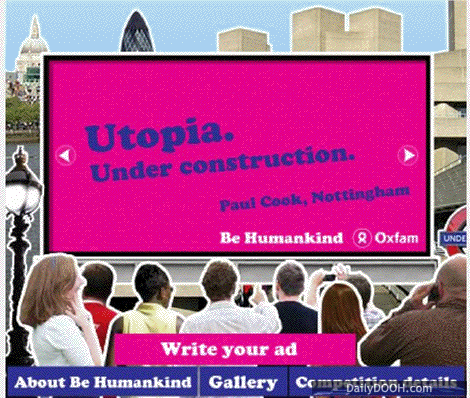 London today will see the first of a number of innovative digital billboards going up for Oxfam on some of JC Decaux's digital Prime Time sites.
One of our predictions at the beginning of this year was the general rise and increased use of User Generated Content (UGC) in the digital out of home arena and this campaign is a great example of that prediction coming true.
Since the 25th September 2008, Oxfam have been inviting members of the public to visit their website and 'design the ultimate poster to express "Be Humankind"'
Up to 14 winning entries will then have their 'headline' uploaded, along with their name, on a daily basis to at least 8 digital billboards in London between 6th and 19th October 2008.
Oxfam says…
Each winning entry will be featured during a 24-hour period between 6 – 19 October. We'll also capture each day's winner on camera for posterity in our online Hall of Fame. In addition, 'highly commended' entries will be added to our online gallery to help inspire others to have a go. If your entry is selected, we'll email you the good news in advance.
If you fancy yourself as a copywriter then it is not too late to enter as the competition is open until 17th October 2008.
http://www.oxfam.org.uk/get_involved/billboard/index.html