Putting its money where its mouth is, the UK Marketing Society is using DOOH to promote its latest book: Marketing Excellence 2, authored by Hugh Burkitt.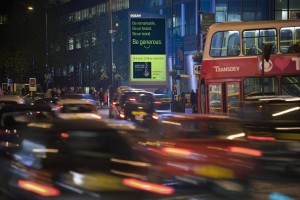 The interactive campaign, running on Ocean Outdoor will comprise digital panels in high footfall locations around the capital, including the P10 site in Hammersmith and The Bridge site in Shepherds Bush.  The latest digital technology is set to compliment the creative perfectly, allowing for a carefully targeted, eye-catching addition to the book's marketing campaign.
As part of the campaign, created by So Design, The Marketing Society is asking experts to divulge their secrets for best-practice marketing excellence in a maximum of 85 characters. Entrants can send their secrets via email to elen.lewis@gmail.com or tweet using the hashtag #MSocOOH and the best secret of the day will be featured on the digital panels in Shepherds Bush and Hammersmith.
Gemma Greaves, Marketing Director, The Marketing Society told us "Marketing Excellence 2 showcases some of the best marketing techniques through its case studies and is an important tool for marketers and businesspeople alike.  The Marketing Society has long commended the use of OOH campaigns and we are confident that by incorporating this into the book's marketing strategy, we will be best placed to reach those who will benefit from its insights."