Gail Chiasson, North American Editor
The Media Merchants has acquired sales rights to its first billboard, a double-sided digital video board at the corner of Granville and Robson, one of Vancouver's highest-traffic locations.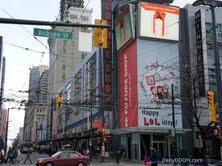 The digital board was previously handled by OBN.
The Media Merchants specializes in non-traditional OOH, including large-scale projections, interactive storefronts and installations. The move to billboard media is part of the company's international expansion agenda, and it's an area the company will continue to examine.
"Having the exclusive rights for the best installation in the city is definitely a significant win for us," says Brad Foster, President, The Media Merchants. "Two high resolution screens and a vinyl domination in the center of the cities entertainment district, We couldn't pass it up!
"This is the most exclusive position in Vancouver, which is a very limited market. The company was founded in Vancouver so for us there is a high level of sentiment towards these boards and the market. It's important for us, as we expand internationally, to hold onto our origins.
"We intend to use these boards in ways never thought of before and have already executed an SMS interactive tally. We're a resource for our clients, providing them with concepts and innovation. Our clients expect us to break new ground for them, and we'll continue to do just that with this location and others. Expect to see new and more robust forms of interactive collaborative engagement.
"If other OOH opportunities present themselves, and they fit well with our inventory, mandate or can support our clients ongoing initiatives we'll make more acquisitions."