Adrian J Cotterill, Editor-in-Chief
During #ISEUROPE this week Prysm announced that it was actually now shipping its high-definition stackable display tiles powered by Laser Phosphor Display (LPD) technology and also showcased (on another nice booth design) what most observers agreed was a much, much better looking display than seen last year.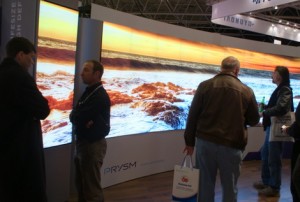 Amit Jain, CEO of Prysm who seemed genuinely excited to see us when our tech team visited their stand told us "We are excited to announce the deployment of our truly transformative display platform. Backed by world class manufacturing, we deliver brilliant, high quality and reliable products. We have amassed an incredible alliance with our partners worldwide and we look forward to seeing Prysm displays across Europe and around the world."
Prysm tells us that they have assembled a global network of more than 50 channel partners that will promote, sell and support Prysm's display products.
Stuart Holmes, Managing Director of UK distributor PSCo was quoted as saying "Our customers are demanding innovative, high technology products that bring brand experiences to life. Prysm's LPD tiles, which look incredible on the stand at ISE, give our customers great design flexibility."
With Christie Digital MicroTiles, Prysm and most recently Mitsubishi's OLED we now have three technologies that allow our vision of shape to become a reality. How exciting!