Gail Chiasson, North American Editor
Astral Media Outdoor, Canada's largest national digital out-of-home billboard network, now offers 33 faces with the addition of a new advertising face in Laval.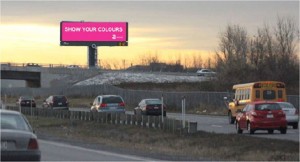 This brings the total number of digital faces to 11 in the greater Montréal region. The new digital face reaches over 130 000 motorists on a daily basis and is located on Highway 15 in Laval, not far from the Carrefour Laval and Centre Laval shopping centres.
The Astral Out-of-Home Digital Network's spectacular screens are located in Montréal, Toronto and Vancouver, all programmed from the company's high tech broadcast control centre in Montréal.