Gail Chiasson, North American Editor
Scala and 10net Managed Solutions, Vancouver, have installed their innovative digital signage solution at the first HP Store in Canada, located in the thriving retail district of downtown Vancouver.
The HP Store Vancouver is a one-stop shopping experience for both consumers and small business owners.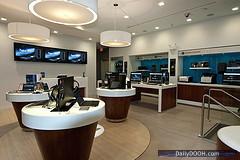 As customers enter The HP Store, they are greeted by experience pods and a feature innovative section displaying the latest HP technology products. Near the check-out, patrons see an HP digital signage display consisting of three side-by-side 47" LCD HP LD4700 screens mounted on a curved wall and powered by an HP Z400 Workstation. These screens communicate product information, upcoming store events and personalized welcome messages.
"The HP Store features HP's latest consumer and commercial technology products," says Andrew Chun, business development manager, HP Canada. Chun says that the digital signage is "an excellent showcase of how HP's latest workstation PC technology and professional display technology come together as a stunning visual communication tool."
10net Managed Solutions, a Scala Certified Partner, worked closely with HP Canada and partner AdCetera, Houston, to incorporate this digital component to complement and enhance The HP Store's interactive environment. 10Net designed, installed and hosts the digital network. 10net also monitors the screens and manages the content using Scala 5.
Using Scala Designer, AdCetera developed the dynamic templates for The HP Store staff so that they can update content easily and push fresh messages out on a daily basis.
"The Scala backend enables customized changes simply and quickly," says Bill Nuttall, founder of 10net. "Screens can either share or feature unique content. The HP Store employees can focus on their business without worrying about additional in-house monitoring and installation support resources."
The system is easy to use and helps The HP Store employees stay on top of key branding opportunities and highlight the importance of delivering a fun interactive experience.
"This is a great example of retail digital signage done right," said Andy McRae, general manager, Scala Canada.